Plantar Fasciitis can be painful and cause many issues regarding your work performance. Thus, it would be best if you had the right work boots for Plantar Fasciitis.
Red Wing work Boots for Plantar Fasciitis offer excellent support and heel cushioning to relieve pain and symptoms associated with the condition. Red Wing work boots are durable and ideal for work, some with excellent safety features for more hazardous work environments.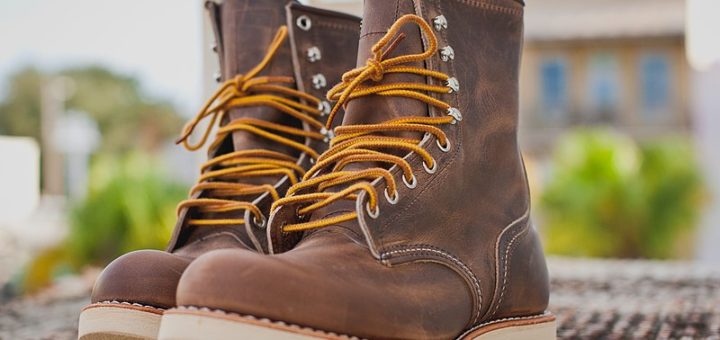 ---
What is Plantar Fasciitis and How will it Affect You
You have a band of tissue running along the inside at the bottom of your feet, connecting your toes to your heel bone. These tissues are called that Plantar Fascia.
When the Plantar Fascia becomes inflamed because of an injury or repetitive stress on the tissues, you have Plantar Fasciitis.
Plantar Fasciitis will cause mild to severe heel pain, which you will feel most when you get up in the morning, or after being off your feet for a while.
Plantar Fasciitis can disrupt your work day when the pain becomes more and may cause issues in how you walk and perform at work.
---
Work Boots for Plantar Fasciitis
There are a few things to look for in a work boot for Plantar Fasciitis;

Firmer Midsole – When you have Plantar Fasciitis, you want a firmer midsole that only flexes in the ball of the foot area.
Good Cushioning – Your work boots need a full cushioned footbed or insole or additional heel cushioning to reduce the impact on the area.
Good Arch Support – A contoured footbed or arch support will help to align your feet properly and distribute weight and impact more evenly, which will help with Plantar Fasciitis.
---
Features of a Good Red Wing Work Boot for Plantar Fasciitis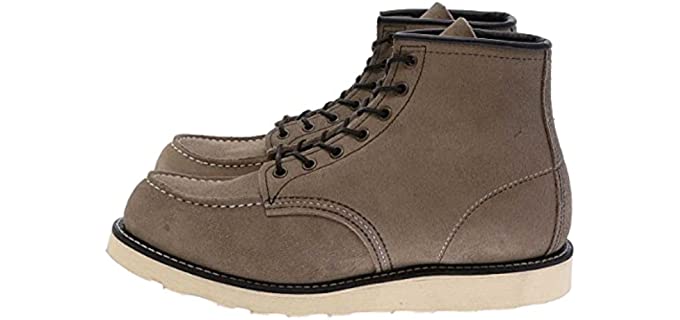 Uppers – Red Wing work boots feature Red Wing Leather uppers that consist of the hides of U.S-raised cattle with minimal surface imperfections. The uppers may have a Boa fit system that is built for all-day performance in any work environment. Some models have a Screen Shield that is a highly durable coating for the toe and other high-wear areas to enhance the durability of the work boot without adding to the weight.
Comfort and Support – The Red Wing range of work boots may have the Dynaforce insole, which is enhanced with proper arch support and improved flexible design, with Gel padding to reduce underfoot pressure points. Some models have a RedBed that is an advanced four-layer moisture managing fabric cover and impact-absorbing urethane foam, with a heel and motion wrap-around stabilizer and heel striking gel cushioning. It may also have a perforated insole for ventilation and arch support. Then we have the ComfortForce technology, which is a removable footbed with Venturi air perforations to keep your feet cool and dry all day long. The cushioning channels' weave patterns and arch offer added support curves.
Safety Features – Red Wing shoes come with safety features, including a steel, or alloy safety toe, electrical hazard safe materials, and an oil, abrasion, or chemical resistant, and slip-resistant outsole. Some models have ForceShield technology, a thin and soft material that is flexible and comfortable while protecting against impact hazards.
Outsole – There are two sole options the Supersole which is a single-density urethane sole that is durable, abrasion, cut, oil, and chemical resistant, with excellent traction and grip. The Supersole 2.0 is a dual-density urethane sole with an inner sole for shock absorbency and an outer sole that is durable and slip-resistant. The outer sole is also oil, abrasion, cut, and chemical resistant. Some models may have the Vibram 430 Mini-Lug outsole that is durable and slip-resistant.
Waterproofing – Red Wing waterproof work boots have three-layer approaches consisting of an interior lining to wick away moisture inside, foam for cushioning, and waterproof barrier uppers with Tricot to keep water out. Some models have a breathable Gore-Tex lining or membrane for full waterproofing.
---
Reviews: The Best Red Wing Work Boots for Plantar Fasciitis
In our Review section, we have added some of the best Red Wing regular and work boots that you can wear if you have Plantar Fasciitis;
---
1
The Red Wing 2408 work boots have a longer shaft and excellent comfort features for Plantar Fasciitis.
They have a ComfortForce removable footbed cushioned with Venturi Air Perforations for ventilation.
The Supersole 2.o0 is a double-density shock absorbency ideal for heel pain, and the tread is abrasion, cut, oil, and chemical resistant, as well as highly slip-resistant.
The work boots have genuine leather uppers and an 8-inch shaft for stability that is ideal for Plantar Fasciitis.
---
2
The Red Wing Classic Moc Muleskinner has a comfortable and supportive design that is ideal for Plantar Fasciitis.
The work boots have leather uppers with a Moc toe design that is a soft toe.
The uppers have a rough-out oiled appeal and finish.
There is a High traction tread on the durable outsole for excellent slip resistance.
The Work boots have a crepe wedge style outsole with plenty of heels cushioning for Plantar Fasciitis.
---
3
The Red Wing Iron rangers is a durable and appealing work boot ideal for less hazardous work environments.
They have full leather uppers, a roomy rounded toe box, and a comfortable fit.
A Bump toe offers more room with a double-layered toe cap for light toe protection.
Inside is a comfortable, supportive, cushioned footbed to reduce plantar fasciitis pain.
The work boots are available in a few rich neutral color options from which you can choose.
The outsole is very durable and offers good traction on most surfaces.
---
4
The Red Wing Heritage Classic Moc features smooth leather uppers with a more roomy and wide Moc toe design.
They gave a comfortable platform solely for added shock absorbency.
There are Oro Legacy leather uppers that are durable and easy to clean.
The boots have a Traction Tred Crepe Wedge outsole that offers soft underfoot cushioning and superb slip resistance.
Inside is a cushioned insole for comfort and to take pressure off painful heels.
---
5
Here we have the Red Wings Heritage Iron ranger Muleskin Design.
Like the regular iron ranger, the Muleskinner has softer leather uppers with triple stitch quality and black or brown Taslan laces.
There is a Vibram 430 Mini-Lug outsole for optimal grip and slip resistance.
The boots have an ankle lace and comfortable lining.
The Toe cap and heel have an additional layer for protection and durability.
There is a Nitrile Cork steel underfoot shank for stability and puncture resistance.
---
6
For the Ladies, we have added the Red Wings leather Chelsea boot option, with a sophisticated appeal and comfort features for plantar fasciitis.
The boots have leather uppers that are water resistant, with elastic gore for a comfortable and easy fit.
They have a durable Vibram Min-lug outsole that offers exceptional slip resistance on various wet and dry surfaces.
The Chelsea boots are very lightweight and come in a few width options.
There is a Texon Footbed that will mold to the shape of your feet for custom comfort and shock absorbency that is ideal for Plantar Fasciitis,
The work boots are available in a few more color options from which you can choose.
---
Index Table: Top Rated Red Wing Work Boots for Plantar Fasciitis
---
---