Thorogood is a company that makes some of the finest quality work boots that you can rely on for performance, durability, and even comfort.
They offer a variety of work boot types to cater to all your requirements and work environments.
Thorogood work boots are available in 6 and 8-inch shaft lengths and are genuine leather, with either a wedge or regular rubber slip-resistant outsole. They feature a comfortably cushioned footbed and may have other safety features such as a safety toe and waterproof uppers.
Thus, the best work boots from Thorogood can make a huge difference in your life.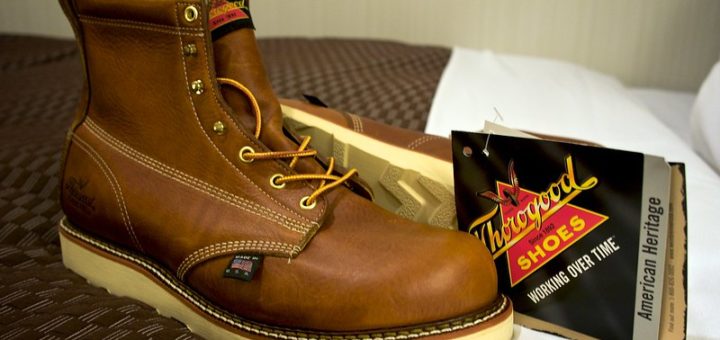 ---
---
Thorogood as a Company
Thorogood is an employee-owned company that takes pride in its quality crafted boots that you can surely rely on.
Their boots are designed to be specifically job-fitted, meaning they are made for whatever you must deal with in your workday.
Thorogood work boots are an absolute classic design, constructed from the finest quality materials that are tough yet still very comfortable and supportive.
Since 1892, Thorogood has carried their legacy of industry-leading footwear, and they have prioritized delivering quality footwear for the past 125 years that provide safety and comfort to their customers.
Thorogood offers footwear collections for different industries, from the lineman to firefighters and industrial workers.
Their American Heritage footwear range is a collection of durable and handcrafted footwear made by the UFCW union tradespeople in the USA.
---
Thorogood Work Boot Options
Thorogood work boots offer you a variety of safety and comfort features in their different work boot models, yet they have two basic styles of work boots, which are the safety or regular toe work boots and their moccasin-style work boots;

Safety Toe – Thorogood has regular safety work boots with a rounded or regular toe design. You can have a steel or composite safety toe in their safety toe work boots range that protects you against heavy machinery and heavy falling objects. This range of work boots offers a variety of other features, such as slip resistance, electrical hazard safety, and waterproofing, along with many comfort features.
Moc Toe – The moc toe range from Thorogood are job-fitted boots designed for individuals who need a reliable and hardworking work bott. The toe box has U-shaped stitching on the toe box to add more flexibility and a wider and roomier toe box design for comfort. This range is likewise available in steel and composite toe options for additional safety and toe protection. Even the American Heritage range from Thorogood has a few moc toe designs in their range. This is a very popular style of work boot from Thorogood, deemed one of their most comfortable designs.
---
Features of a Good Thorogood Work Boot
Work Boot Types – Thorogood offer different styles of work boots. They mainly have Moc Toe work boots with a soft toe and safety toe work boots with a steel or composite safety toe. Many of their work boots are waterproof or designed for outdoor use. They also include a range of Logger work boots.
Uppers – Thorogood work boots mainly have full-grain leather uppers and use Goodyear Strom welt construction methods. Their leather and construction methods are some of the best on the market. Inside the boot, you may find a mesh or fabric moisture-wicking lining.
Comfort Technology – Thorogood work boost generally has soft and cushioned insoles. Many models feature a softer wedge sole with a more durable outsole for shock absorbency. An EVA Footbed, Poron Comfort Insole, and removable shock-absorbing footbed are some available options.
Safety Features – Thorogood work boots may have a fiberglass or composite shank for stability and puncture resistance, depending on the specific model. Their work boots are mostly waterproof and offer composite or steel protective toes. Some models are also electrical hazard-safe. They are generally slip-resistant and oil-resistant.
Outsole – Thorogood work boots are popular for their durable MAXWAER wedge outsole with a rubber and wedge sole design, lug slip, and oil-resistant tread.
Options – Depending on the specific model, you may have some color choices and width options. There are also many sizes available in all Thorogood shoe models.
---
Reviews: The Best Thorogood Work Boots
These are some of the best available Work Boot models from Thorogood;
---
1
The Thorogood American Heritage 8-inch work boot is one of their top favorites.
The work boot has 100% leather uppers with an 8-inch long shaft.
There is a steel safety toe and a fiberglass shank for stability and protection.
The MAXWear wedge slip-resistant sole is quite popular in Thorogood work boots.
The outsole is a durable Vibram rubber.
The work boos also boast Goodyear welt construction.
---
2
This design from Thorogood is very durable and comfortable.
The work boot has full-grain leather uppers and a composite safety toe cap.
It is one of their static dissipative work boots for work environments that tend to build up static electricity.
The rubber outsole is highly slip-resistant and durable.
There is a gel and SD Polyurethane cushioning footbed.
A composite shank provides stability and underfoot protection.
---
3
The Thorogood Flyway is a waterproof workboat from this brand.
The work boot has full-grain leather, waterproof uppers, and a non-safety toe.
It features the MAXWear wedge sole and rubber outsole.
Constructed using Goodyear Welt construction methods for durability.
The boot also boasts a removable shock-absorbing footbed and composite shank.
---
4
This is a Tactical work boot model from Thorogood.
The work boots are genuine leather with a side zip closure.
They feature GenFlex 2 technology in the outsole for a sole that flexes when needed.
There is a protective composite shank and high-density polyurethane footbed for shock absorbency during jumps.
The boot is constructed using Goodyear elt construction methods.
---
5
The Thorogood American Heritage 6-inch work boots are likewise quite popular.
It has leather uppers and a Polyurethane MAXWera wedge sole.
There is a composite shank for stability, a shock-absorbing footbed on Poron, and a Cushioned insole for comfort and support.
The outsole is durable and highly slip-resistant.
The Boot has a comfortable Moc toe design.
---
6
The Thorogood Wildland is a waterproof safety work boot.
The boot has full gran flame-resistant leather uppers with BBP X-Stream waterproofing.
It has a removable dual-density polyurethane footbed for comfort and shock absorbency and a Lenzi L-protection and non-metallic puncture-proof flexible insole.
There is a steel triple-rib logger shank and Vibram structural Fire and Ice outsole,
Constructed using Goodyear storm Welt Construction Methods, with a composite safety toe.
These work boots are designed for extreme heat and cold conditions.
---
Index Table: Top Rated Thorogood Work Boots
---
---