Skechers Work's industry-tested and -approved slip-resistant and safety toe shoes and boots offer protection and comfort for essential workers, first responders, restaurants, construction, and more.
You would not imagine that Skechers with their gorgeous sneaker ranges do actually make work boots, however they do, and some pretty excellent and reliable work boots as such.
The Skechers for Work range is industry tests and well-approved work boots for various occupations and work environments.
This article will look at some of the best Skecher's work boot models and compare them.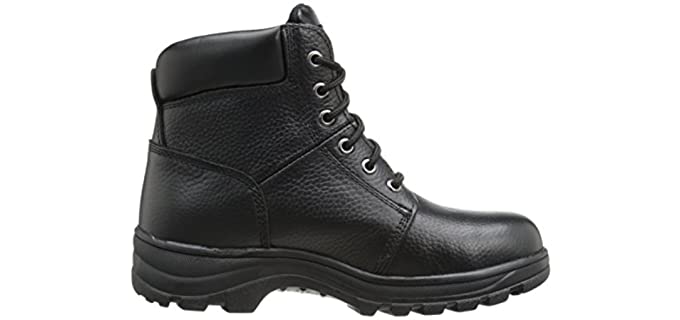 ---
Why choose Skechers Work Boots
Well, in my experience and research, I have found that Skecher's work boots, even their industrial and safety work boots, can be well compared to most other well-known work boot brands, and they do fit the bar.
Most Skecher's work boots meet ASTM, ISHA, and ANSI safety standards.
But what is the most desirable about Skechers work boots is that they are so comfortable.
Skechers use comfort technologies in their shoes that are unmatchable, and the same principle relates to their work boots.
Relaxed Fit – You can choose from Skecher's regular secure fit work boot range or their relaxed fit work boots that have a more roomy and comfortable fit.
Durable Construction – Skechers use excellent construction methods such as Goodyear Welt to make their boots even more durable.
Safety Standard – Most Skechers work boots are rated according to the ASTM F2892-11, Steel safety toe rated ASTM F2412-2011 I/75 C/75, and Electrical Hazard EH Safe tested ASTM F2413-05 standards.
Comfort Features – If anything, Skecher's work boots are very comfortable, featuring memory foam cushioning, infused with gel or air-cooled to keep your feet cool, and EVA midsoles for shock absorbency.
High traction Outsole – Their outsoles match up with regular work boots consisting of durable rubbers, with slip-resistant, and oil and slip-resistant treads.
Safety Toe Features – Many Skechers work boot models will have steel, composite, or alloy safety toe, along with others safety features and even waterproofing.
---
Applications for Skechers Work Boots
Skechers work boots come in many varieties for different occupations;

Industrial – Their work boots can be used in industrial settings as they are electrical hazard safe, slip-resistant, and offer steel toe protection.
Construction – Skecher's work boots are perfect for construction as they are comfortable, flexible, and have safety features.
Outdoor – The waterproof Skechers work boots models are ideal for landscaping and outdoor work as they offer full waterproofing and slip resistance.
Health and Hospitality – Skechers also offers many work boots and shoes for healthcare and hospitality work applications.
---
Features of a Good Skechers Work Boot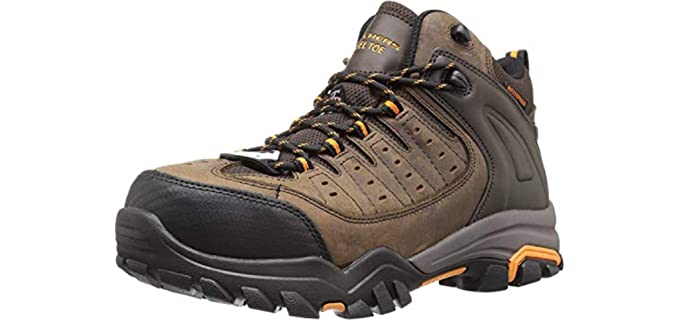 Uppers – Skechers work boots may have durable genuine leather, so synthetic leather uppers that can be waterproof, and have a lining for comfort.
Safety Features – Skechers work boots come with safety features such as a steel toe, electrical hazard safe materials, waterproofing, and insulation.
Comfort Features – Skechers work boots are extremely comfortable with memory foam cushioning some infused with cooling gel, and moisture wicking lining, and and EVA midsole for shock absorbency.
Outsole – All Skechers work boots have either a slip resistant, or a slip and oil resistant rubber outsole.
---
Reviews: The Best Skechers Work Boots
Looking for some of the best work boots from Skechers, well here are the best models for all work environments;
---
1
The Skechers for Work Delleker Lakehead is a steel-toe industrial work boot, it has a basic industrail work boot design, with good cushioning, and all the safety features that you need.
The work boot from Skechers has leather uppers with a seam-sealed waterproof design and a protective steel toe cap.
The work boot also has a slip-resistant rubber outsole that is very durable.
The is an Air-Cooled Memory Foam cushioned insole and supportive midsole for comfort.
The tongue has a padded and gusseted design, and there is a smooth synthetic collar.
---
2
For men, the Skechers Workshire has a more relaxed fit and a very roomy toe box design.
It is generally ideal for wider feet and has full leather uppers,
The work boot is available in wider widths and extended size options.
An extremely durable work boot with rubber, slip-resistant outsole, and a steel protective toe cap.
---
3
The Skechers Blais-Bixford is a very durable and safe work boot for industrial work environments.
The workboat is breathable, fully waterproof, and has gas leather uppers.
The toe is reinforced, and there is a protective steel toe cap.
The work boot has a memory foam footbed for comfort and a durable midsole.
The outsole is a slip-resistant, durable rubber.
Furthermore, this is an electrical hazard safe work boot that fills all your needs.
---
6
The Skechers Cascades us a comfortable Logger work boot.
The Outsole is a very lug rubber with a slight heel for logging work and climbing stability.
The uppers are leather, with an 8-inch shaft.
The work boot has an oil-resistant traction outsole and stitched top trim.
---
5
The Skechers for Work Argum Alkova is a durable steel toe work boot.
The work boot has oil-finished leather uppers with a protective steel toe.
It features flexible and high traction, a slip-resistant outsole, and a memory foam cushioned comfort insole.
Furthermore, it is seam-sealed and fully waterproof with HydroGuard construction.
---
6
The Skechers for Work Workshire Peril for ladies is a favorite of this brand.
It is a full leather work boot with a relaxed fit design and roomy toe box.
The work boot has a steel protective toe but is also electrical hazard safe.
T has a comfortable gel-infused memory foam footbed and high lug traction, slip-resistant outsole.
---
Index Table: Top Rated Skechers Work Boots
---
---