One very popular work boot type is the wedge sole work boot. While the wedge sole does not appear as durable and heavy-duty as the traditional lug rubber soles, many people swear by a wedge sole work boot.
In this article, we will specifically look at the Wolverine brand as they have some of the absolute best wedge sole work boots available.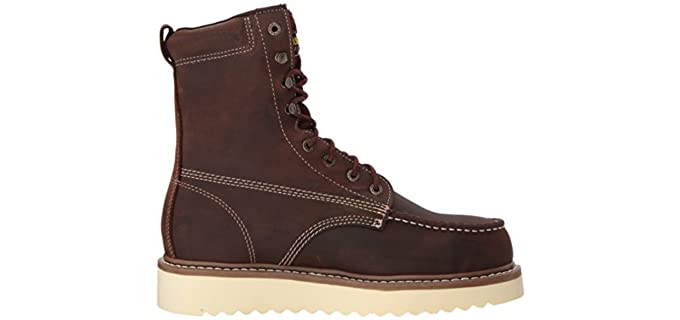 ---
Wolverine as a Work Boot Brand
First of all, let us look a bit into the brand Wolverine and its history in making work boots.
G.A Krause found a small tannery with only a handful of employees in 1883. With their relentless craftmanship, this Michigan company managed to produced gloves and work boots that are popular for their comfort and toughness.
The thriving business introduced a work boot in the 1910s named the 1000 Mile work boot because it offered a1000 miles of wear.
Workers loved this work boot that consisted of premium quality Horsehide leather,
Today Wolverine is still handcrafting the American icon work boots with the same methods.
Wolverine work boots are highly praised for the following; their comfort, their tailored fit, and their extreme endurance.
---
Why choose a Wedge Sole Work Boot
So why should you choose a wedge sole work boot from Wolverine?
Well, here are a few reasons why the wedge sole is favored so much;

Benefits of a Wedge Sole Work Boot – The primary benefit of a work boot with a wedge sole is that the sole has a much larger surface area contact than regular sole work boots. A typical sole work boot has a raised heel with a gap between the tread of the sole between the forefoot and the heel, whereas a wedge sole runs the entire length of the outsole with full contact.
Where You May Need a More Lug Sole – However this said there are actually some areas and situations where a wedge sole is not the best option, and you should rather opt for a more lug traditional sole. Lineman jobs, logging, and any work that takes place on ladders should be done with a lug soled and heeled work boot, For outdoor work such as firefighting and forestry, a more lug traditional sole is likewise advised.
Wedge Sole Work Boots for Hard Surfaces – A wedge sole work boot is the ideal candidate for working on hard and slippery floor surfaces that are more even, and usually indoors. The wedge sole is actually an excellent choice for working on hard floor surfaces as it is the greatest impact absorber and also provides excellent solid support.
---
Features of a Good Wolverine Wedge Work Boot
Uppers – Wolverine work boots have genuine leather uppers that may be waterproof and are constructed to be extremely durable and hard wearing. They are constructed using Goodyear Welt methods for improved durability and to last longer. Most of Wolverine's wedg sole work boots are unlined, although some have a moisture wicking interior lining for your comfort.
Comfort and Support Features – For comfort and support you may get a PU insole or a full cushioned insole, as well as a shock-absorbing midsole and comfortable footbed design. Wolverine Wedge sole work boots are ideal for hard floor surfaces and standing all day because they provide additional cushioning and shock absorbency.
Safety Features – Safety features include a steel or composite toe, electrical hazard safe materials, waterproofing, and slip resistance. some work boots may also offer chemical and abrasion resistance, or oil resistance in the outsole depending on the model. Composite toe work boots generally tend to be electrical hazard safe, whereas steel toe work boots offer better toe protection.
Outsole – The outsole will be a wedge design usually with a rubber tread that is slip-resistant, or oil and slip-resistant.
Options – Wolverine offers some options in color when it comes to most of their work boots models, they also have width and extended size options availble.
---
Reviews: The Best Wolverine Wedge Work Boots
These are some of the top-rated Wolverine Work Boots that have a Wedge Design Sole;
---
1
The Loader from Wolverine is an 8-inch steel toe work boot with a wedge sole.
It has genuine leather uppers and it is unlined to keep cool.
The footbed is cushioned and removable and there is a PU wedge sole.
The outsole is a durable and slip-resistant rubber.
---
2
The DuraShocks from Wolverine are designed for optimal shock absorbency.
They have a removable DuraShocks dual-density PU footbed.
The Outsole is a DuraShocks high abrasion resistant Wedge design rubber.
The uppers are genuine leather and Goodyear welt construction methods are used.
---
3
The Wellington work boot from Wolverine also comes with a wedge design outsole.
It has leather uppers and is unlined.
It is constructed using Goodyear Welt construction methods.
There is a protective nylon shank for stability and the boot has a soft toe.
A removable cushioned insole provides comfort and shock absorbency.
The outsole is a durable and slip-resistant rubber sole.
---
4
The Moc toe design wedge sole work boot from Wolverine is likewise quite popular.
It has leather uppers with a Moc toe design and stitching.
The sole is a crepe sole with a wedge design.
It has a padded collar and a comfortable cushioned insole.
This is a light work boot for less hazardous work environments.
---
5
The Wolverine DuraShocks Wellington is also a favorite wedge sole work boot.
It has a pull-on design and longer shat that is genuine leather.
You can choose between a CarbonMax safety toe or soft toe option.
The work boot has a DuraShocks dual-density PU footbed for comfort and a DuraShocks TPU outsole in a wedge design.
The outsole is fully slip-resistant.
---
6
This is a rigger WPF wedge sole work boots for men and women.
It has leather and textile uppers and is available in two color models.
The work boot has comfortable PX cushioning and support technology.
It is waterproof and very breathable with moisture-wicking mesh linings.
The sole is a wedge design with rubber and slip-resistant tread.
The composite toe is lightweight and offers good protection.
---
Index Table: Top Rated Wolverine Wedge Work Boots
---
---