Roofing is a very high-risk occupation that requires work boots that offer excellent grip and safety functions.
Red Wing work boots for roofing have a lug and high grip outsole, along with safety and comfort features that are ideal for Roofing work.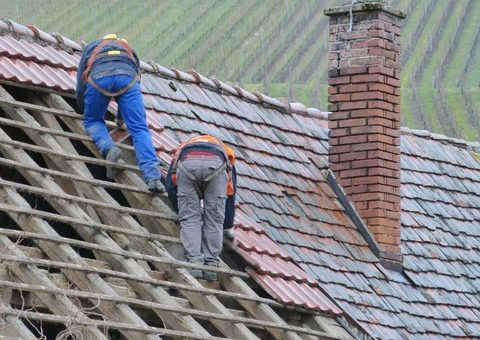 ---
What to Look for in a Good Roofing Work Boots
There are a few factors to consider when choosing good roofing work boots in general;

Slip-Resistance – One of the most important features in a roofing work boot is a lug outsole that offers good slip resistance and grip. A work boot with a slight heel is even better.
Durability – Roofing work entails working in elements and with the object's that can cause much abrasion. Thus, it would help if you had durable and abrasion-resistant work boots that can withstand the demands of roofing work.
Comfort – Roofs are uncomfortable and hard to work on. It would be best if you had a work boot that is very flexible with comfortable cushioning and breathable materials.
Protection – You do not need specific safety features in Roofing work boots, such as a steel toe, as there are few impact hazards. However, waterproofing can be beneficial, and a slip-resistant outsole is a must.
---
Roof Work Risks
Roofing Construction work is a high-risk occupation because the Falling Hazard is one of the biggest risks.
Roof workers are constantly in danger of slipping, tripping, or falling through fragile roof surfaces.
Roofing is sometimes required in very hot weather, which can cause fatigue; however, roofing work will not be done in wet weather.
There may be unprotected edges and even sharp objects on roofs that may pose a danger to Roof workers.
---
Features of a Good Red Wing Work Boot for Roofing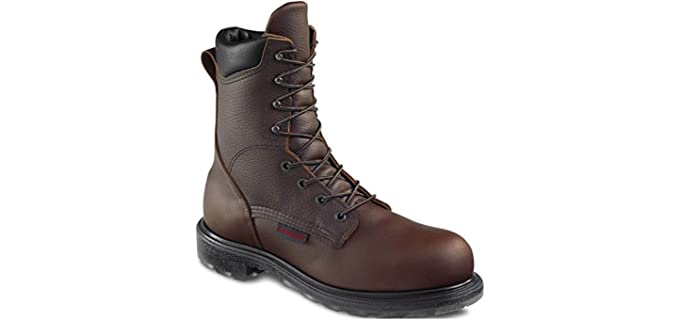 Uppers – Red Wing Work boots have genuine leather uppers. They obtain their leather from U.S-raised cattle with minimal surface damage to their hides, crafted with a time-honored tradition. The Boa Fit system is more effortless and precise, allowing you to adjust the fit easily and giving all-day comfort. Some models have Screen Shield technology which is a thin and highly durable coating on the toe and other high-wear areas to enhance the durability and resistance of the work boot without adding to the weight.
Comfort and Support – For comfort and support, Red Wing uses a few cushioning and comfort systems to support your feet and provide better shock absorbency. The Dynaforce Insole has enhanced arch support and improved flexibility, with gel padding in all the high-pressure areas. The Redbed is a four-layer cushioning and lining system consisting of a Moisture-managing fabric cover, a shock absorbing high impact foam, a heel and motion wrap-around stabilizer, and a heel strike gel elastomer cushioning pad. The entire Redbed sole has perforated ventilation for breathability. Then there is the ComfortForce removable footbed with Venturi Air Perforations and excellent arch support.
Safety Features – Red Wing Work Boots have regular safety features such as a steel or alloy safety toe, electrical hazard safe materials, and a slip-resistant outsole. Some models have a ForceShield thin, soft material cover that is more flexible and provides light impact protection.
Outsole – the Outsole will be a Supersole with a single density design or a Supersole 2.0 with a double density design for additional shock absorbency. The sole consists of urethane materials with a slip-resistant tread, and it is abrasion, oil, chemical, and cut resistant for your safety.
Waterproofing – Red Wing has a three-layer waterproofing system in most of their work boots models, this includes a moisture-wicking interior lining, perforated cushioning, and Tricot-protected water-resistant uppers. Some models feature the breathable Gore-Tex waterproof Membrane that offers fuller waterproofing and stays breathable. RED WING
---
Reviews: The Best Red Wing Work Boots for Roofing
Here are some Red Wing Work boots models that are safe and comfortable, with excellent grip to use for Roofing work;
---
1
The Red Wing Iron ranger work boots are ideally suitable for Roofing Work.
They have a longer and more stable shaft that will protect your ankles, with a full, adjustable lace-up feature.
The work boots have a slight heel and slip-resistant lug Vibram outsole that is perfect for Roofing work.
The work boots are comfortable with a cushioned and supportive footbed and a smooth lining.
They are full leather and easy to care for, with double layers on the toes and heels for durability and protection.
---
2
The Heritage Moc Toe Work Boots have a softer Crepe sole with a lug tread that is ideal for roofing and softer underneath your feet.
They are leather work boots with a sot Moc style toe and a classic roomy fit.
The work boots have Oro Legacy leather uppers and a Traction Tred Cushioned Wedge outsole for slip resistance on roofs and excellent cushioning.
Inside is a smooth lining and comfortable insole.
---
3
The Red Wing Weekender Chukka Work Boots are a very basic and lightweight design boot that can be used for roofing work.
They have unlined full leather uppers and lace-up closures.
The work boots have a more flexible sole and design, allowing easier movements on the roof.
They have a ComfortForce footbed that offers support, cushioning, and a moisture-wicking lining.
The Outsole is durable rubber with a lug design for optimal grip and resistance.
The slight heel is also ideal for roof work.
---
4
Here we have the Red Wing Heritage Work Chukka boot, which is more of an actual work boot.
It has full leather uppers with a three-eyelet lace-up closure.
The Work boots are extremely lightweight and durable for roofing work and come with a comfortably cushioned footbed to fight foot fatigue.
They will keep cool on the Roof because of the more lightweight and breathable design.
The work boots have a superb Atlas Tred outsole that is durable and offers exceptional grip.
---
5
The Red Wing Oro Legacy is a Wedge sole lightweight work boot that is comfortable and flexible for Roofing work.
The work boots have a very roomy Moc toe design, full leather uppers, and a smooth and breathable leather lining.
They are very lightweight and cool for roofing work and have very durable Goodyear Welt construction.
The wedge sole is cushioning and has a lug tread for slip resistance on roofs.
---
6
For women, I have included the Red Wing Silversmith work boot for roofing.
The full lace Up system and ankle design will give better ankle stability for roofing work.
The work boots are genuine leather with very durable Goodyear Welt construction.
They have a non-marking, oil, and slip-resistant Vibram 430 Mini-Lug rubber outsole that offers the best grip for roofing work.
Along with the slight heel, they are very stable and offer a good grip on the roof.
The Footbed is cushioned and supportive, with a smooth leather lining.
---
Index Table: Top Rated Red Wing Work Boots for Roofing
---
---