The right work boots will protect you against hazards in your work environments and provide good comfort and support features.
Because many occupations require that you are on your feet for many hours, you need a comfortable and supportive work boot that also meets safety requirements.
Red Wing work boots mostly come with soft toe and moccasin toe styles. They have genuine leather uppers that may be waterproof and a slip-resistant wedge or rubber outsole. Red Wing work boots are comfortable and soft, with a good cushioning and support system.
Red Wing is a work boots brand with much history behind it and remains superior quality in a comfortable work boot.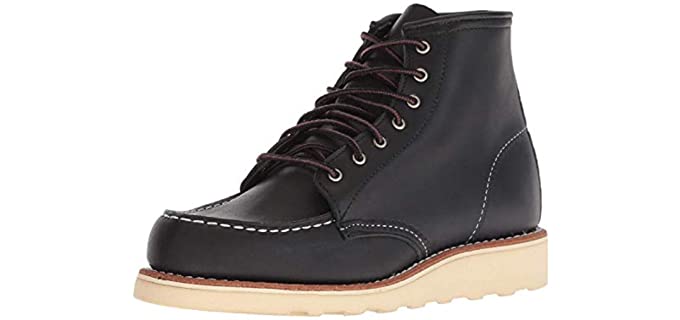 ---
Red Wing as a Company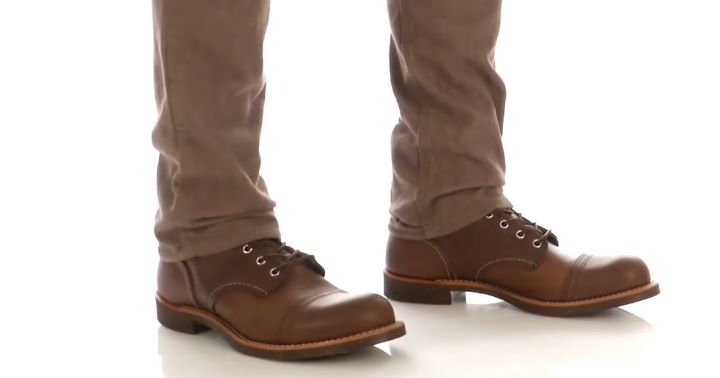 The iconic red Wing work boots are rooted in the belief of the red Wing that they need to make a lasting difference in people's lives.
While the assortments of work boots and expertise have grown since 1905 with the first introduced Red Wing work boots, the legacy of quality will always remain the same.
Red Wing enjoys embracing their rich heritage and looks forward to the future by always placing its clients first.
Red Wing Work boots come with a 30-day money-back guarantee. You have thirty days after purchase to decide whether you are completely satisfied with your Red Wing work boots.
---
Why You Need Good Work Boots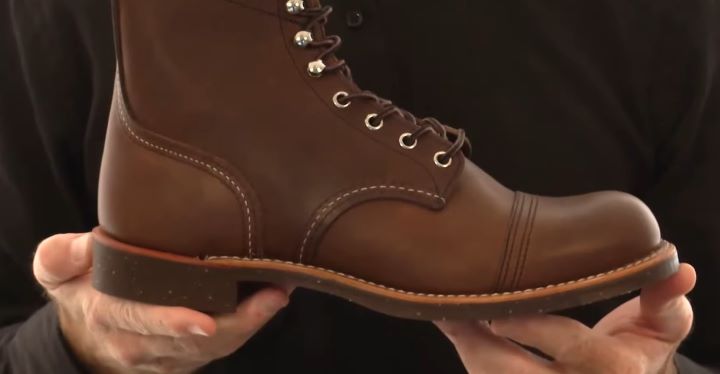 Well, exactly as you need proper running shoes for running and proper equipment for hiking, fishing, or sports, you need good work boots that are suitable for your specific work environments, with all their challenges and hazards, as well as for your specific occupation.
Your work boots macerate the foundation on which you will be carried all day, securing your footing on sometimes wet and slippery floor surfaces.
Work boots are not just there to protect you from injuries in the workplace, but they also need to keep your feet comfortable and well supported to prevent foot fatigue and ensure you do not suffer pain or any other foot issues.
Here are a few reasons why you need the best work boots for your work environment and specific occupation;

Protection – First and foremost, many companies and laws require that you wear safety boots for specific work environments and occupations, such as industrial and heavy-duty plants. Work boots protect against a variety of risks in the workplace that can cause injuries to your feet and your body. Most work boots have a safety toe that can be steel, alloy, or composite to protect your feet against heavy falling objects and crushing hazards from heavy machines. Some work boots have additional metatarsal guards for more hazardous work environments. Most work boots are rated electrical hazard safe, meaning they can protect you against electrocution. All work boots generally have a slip-resistant lug outsole, and many also have an oil, heat, or chemical resistant and abrasion-resistant outsole. Then again, most work boots are waterproof to protect you against wet weather conditions or work environments.
Improved Health – Yes work boots can improve your health. Think about it this way, when you are on your feet all day, standing, walking, bending, crouching, or jumping, all these movements impact your feet. The impact on your feet, in turn, can impact the joints in your body, such as hips, knees, and ankles. Your feet can indirectly affect your back and cause back pain if your posture is incorrect because of your walking and standing positions. Thus, good work boot employs support technology, proper alignment, and stability, along with cushioning technology that absorbs impact and provides comfort to your feet. Besides that, our feet must also stay dry on the inside and cool to prevent our feet from becoming tired and exhausted. Comfortable moisture-wicking lining and breathable uppers help to keep your feet well ventilated and energized.
Company and Legal Requirements – Lastly, you may be required by law or your company to wear safety work boots with specific safety features such as a steel toe, electrical hazard safe materials, and a slip-resistant outsole, which are usually the basics.
---
Features of a Good Red Wing Work Boot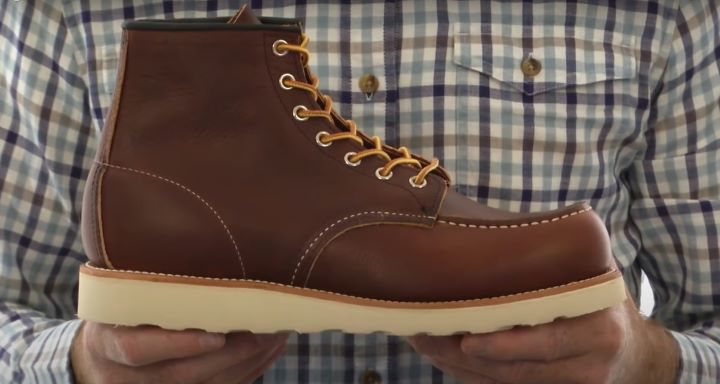 Uppers – Red Wing uses genuine full-grain leather for the uppers of their work boots as well as very durable and quality Welt Construction methods. They have a soft leather lining in their work boots to wick away moisture and provide comfort. Many of their work boots are also waterproof.
Outsole – For the outsole, rubber is used with a high Traction tread of improved grip and slip resistance. Some models have a Vibram 430 Mini lug outsole or Mini Tap outsole for durability.
Comfort Features – For comfort, a cushioned footbed such as the TEXON footbed molds to the shape of your feet. Each work boot offers a comfortable custom fit and smooth leather lining.
Protection Features – For protection most red Wing Work Boots are waterproof or resistant. Some models have a supportive steel shank and are also electrical hazard safe.
Options – You do get some neutral color options in most red Wing work boot models as well as wider width options.
---
Reviews: The Best Red Wing Work Boots
Here are some of our top choices in red Wing Work Boots s far;
We hope you love the products we recommend!
So that you know, We may collect a share of sales or other compensation from the links on this page.
---
1
The Heritage from Red Wing is their classic style moc toe work boot,
It has 100% leather uppers and a synthetic wedge design sole.
The work boot has a contrast-stitched moccasin toe.
It is available in many neutral color options.
This is a non-safety durable work boot.
---
2
The Red Wing Heritage Iron Ranger is a six-inch durable work boot.
The work boot has leather uppers with a reinforced protective toe cap.
It has a durable and slip-resistant rubber outsole.
Inside is a soft and smooth, breathable leather lining.
There are also quite a few more color options from which you can choose.
---
3
The red Wing Heritage Pull-on work boots are also atop my favorite.
It has an easy pull-on and off style and full leather uppers.
The design is a classic Chelsea boot style available in more colors.
There is a durable and slip-resistant outsole.
The workboat has a cushioned and comfortable TEXON footbed.
The outsole consists of Vibram rubber technology.
---
4
The Red Wing Heritage Blacksmith us with a comfortable and tough leather work boot.
It has genuine leather uppers and a synthetic sole.
The work boot is available in two neutral color selections.
It has a Vibram 430 mini lug rubber outsole.
The work boot has a comfortable ankle style.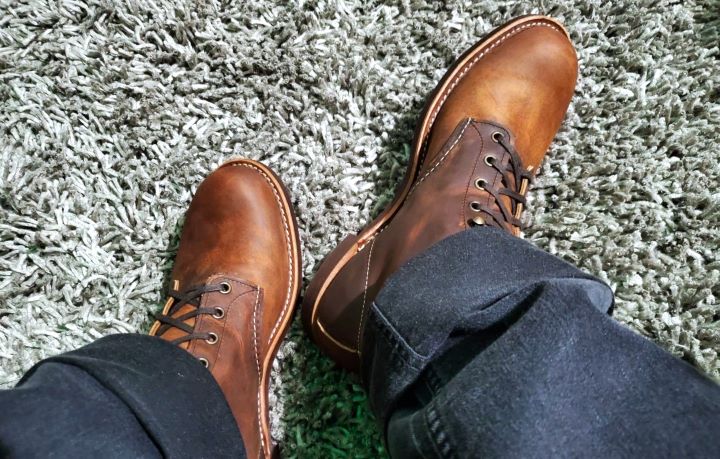 ---
5
This is the Red Wings Heritage Iron Ranger for women.
It is a leather lace-up work boot available in three neutral color options.
The work boot has a comfortable cushioned insole.
The outsole is durable and slip-resistant.
---
6
The Red Wing Heritage is a Moc Toe design soft work boot for ladies.
The work boot is 100% genuine leather with contrast stitching on the moc toe.
It has a shock-absorbing synthetic sole and a comfortable cushioned insole.
The work boot has Goodyear welt construction that is of excellent quality.
It is also available in more color options.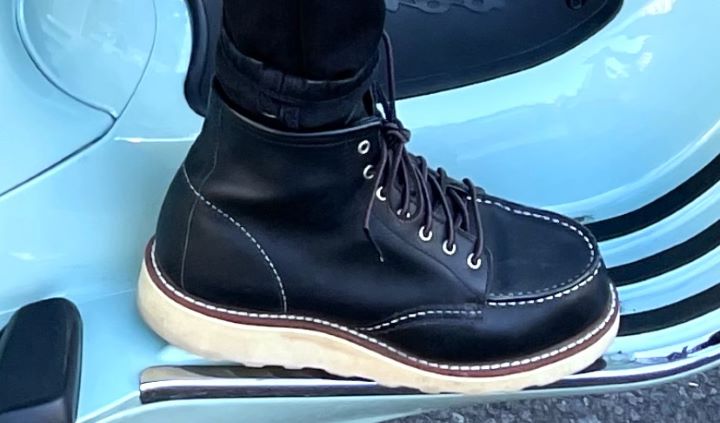 ---
Index Table: Top Rated Red Wing Work Boots
---
---