Keen is a shoe brand that is well known for its Hiking and outdoor boots and shoes. However, did you know that Keen also makes some of the most outstanding safety work boots?
The Keen Utility work boot range combines the comfort and rugged support of an outdoor hiking boot with the safety features and durability of work boots.
On the other hand, Keen work boots also have plenty of support and comfort features, making them ideal for foot issues such as Plantar Fasciitis.
Keen work boots have full-length cushioning, which provides cushioning in the heel for Plantar Fasciitis, most of their footbeds are metatomical, which means they support your arches which in turn takes the pressure off the Plantar Fascia, and can help if you have a low or collapsed arch which may cause Plantar fasciitis.
This article will look specifically at some of the best available Keen work boots for Plantar Fasciitis.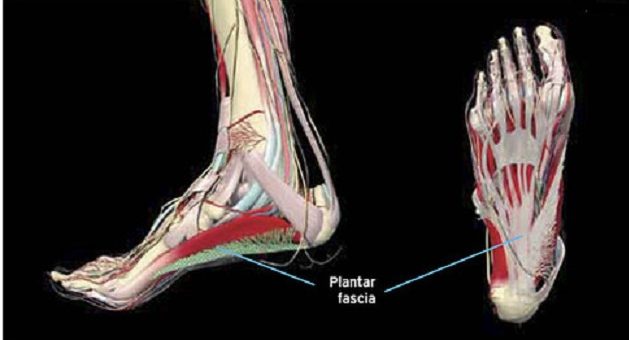 ---
---
Plantar Fasciitis Symptoms and Causes
Plantar Fasciitis causes burning and stabbing pain in your heel and the area at the bottom of the feet, which is usually mostly felt when you get up in the mornings after a long day on your feet.
You have a band of tissue called the Plantar Fascia that connects the heel bone to the toes. This band of tissue can easily become damaged, with small tears or inflamed, because of pressure and the hard impact on your feet for many other reasons.
Symptoms – You may feel a burning or stabbing in the heel or around that foot area. The Pain is quite sharp, and there may be slight swelling. Pain is mostly felt when you have been off your feet awhile and then get up or in the mornings.
Causes – Plantar Fasciitis is caused by a hard impact on the feet that places strain on the Plantar Fascia, which inflames or damages them. Walking or running on hard surfaces or even standing for long periods in shoes that do not support or cushion your feet may cause strain that leads to Plantar Fasciitis. Other risk factors include obesity, injuries, and age. People between 40 and 60 years are more likely to get the condition. Furthermore, your foot mechanics and how you walk are also a factor. Many individuals may have a flat or very high arch which causes improper alignment and a lack of arch support, which in turn places strain on the Plantar Fascia, causing Plantar Fasciitis. However, most of these reasons are just risk factors.
Treating Plantar Fasciitis – Plantar Fasciitis is generally not very severe; however, it can get worse if left untreated, leading to surgery that may be required. However, you can start with proper footwear that supports your arch, has a more flexible sole, and shock-absorbing cushioning. You can use orthotics and insole to support your feet and reduce strain. Over-the-counter and prescription pain medication may also help with the Pain.
---
Why Most Work Boots are Inadequate
Most work boots, unfortunately, do hurt and cause damage to your feet.
Ost industries issue cheap, rigid, and uncomfortable standard safety work boots. That is why I usually recommend investing in good quality and comfortable work boots.
Work boots aim to keep your feet safe from workplace hazards such as heavy falling objects, water, liquids, slips and falls, and electrical shock.
However, they offer little to keep your feet comfortable and supportive, which may lead to issues like Plantar Fasciitis.
With a rigid sole that allows little movements and no support or cushioning, your feet take a lot of strain on hard floor surfaces. The strain may be even worse for individuals with foot issues such as very high arches or flat feet, leading to many complications.
So yes, your work boots are only sometimes good for your feet. That is why you need to select them carefully.
---
Features of a Good Keen Work Boot for Plantar Fasciitis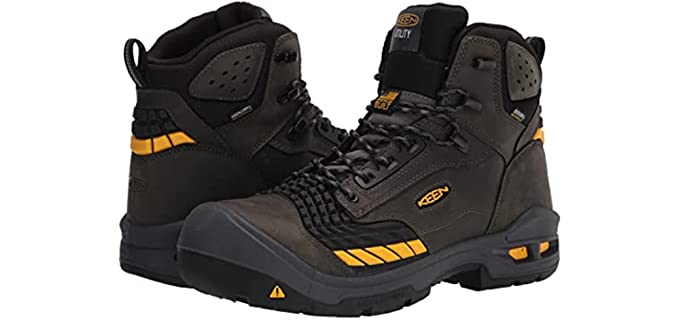 Uppers – Keen work boots offer very comfortable uppers, and most of their work boots are fully waterproof. They are breathable and moisture-wicking with comfortable linings, a roomy toe box, and a comfortable padded collar. Keen work boots are mostly genuine leather and textile.
Support and Comfort – keen work boots offer a sole that flexes the right areas for more natural movement. They have a cushioned, supportive footbed and shock-absorbing midsole, usually foam or EVA. Some models have layered cushioning and a comfortable Keen Dry insole.
Outsole – keen work boots come with lug rubber outsoles that are slip-resistant, oil and slip-resistant, durable, and ideal for wet and dry floor surfaces.
Safety Features – For the most part, Keen Utility work boots offer very similar safety features such as steel or composite toe caps, are electrical hazard safe, and offer excellent puncture resistance because of their thick soles and shanks.
---
Reviews: The Best Keen Work Boots for Plantar Fasciitis
These are some of our top favorite Keen work boots for Plantar Fasciitis;
---
1
The Keen Utility Lansing is a steel toe boot ideal for Plantar Fasciitis.
The work boot has a TPU stability shank and full-length cushioning for support and comfort.
The Full-length cushioning also concentrates on the heels, where you feel the pain of Plantar Fasciitis.
The Tpu shank, in turn, provides stability and good underfoot protection to reduce the impact on the heels and Plantar Fascia and help with stability.
The uppers are leather with a waterproof membrane and mesh lining.
The work boots have electrical hazard-safe materials, a slip, and an oil-resistant rubber outsole.
---
2
The Keen Utility Pittsburg work boots offer a dual-density metatomical EVA footbed for full support and cushioning.
They have steel protective toes and a slip-resistant rubber outsole.
The uppers are soft nubuck leather with metal lace hooks.
The work boot is fully waterproof.
---
3
The Keen Utility Coburg is a tough work boot with many comfort features for Plantar Fasciitis,
It has waterproof leather uppers, moisture-wicking lining, high traction, oil, and slip-resistant rubber outsole.
There is a plain TPU shank and PU midsole with a metatomical dual-density design.
The work boots are likewise electrical hazard safe.
---
4
The Keen Cincinnati is a wedge sole work boot for Plantar Fasciitis.
The uppers are soft waterproof leather.
There is a Keen Luftcell Air-Infused midsole that is lightweight and shock-absorbing and a pillow top cushioned insole.
It has Goodyear Welt construction and is electrical hazard safe.
---
5
The Keen Utility Troy is a construction work boot for Plantar Fasciitis.
The work boot has a Carbon Fiber protective toe and leather uppers.
There is a high traction, oil, and slip-resistant rubber outsole.
There is enhanced midsole cushioning and a removable cushioned insole.
---
6
The Keen Utility Dover offers a comfortable cushioned midsole and insole for Plantar Fasciitis.
It is a fully waterproof and insulated work boot for wet and outdoor environments.
The work boot has a lightweight, composite safety toe and is electrical hazard safe.
The rubber outsole offers excellent traction with oil and slips resistance.
---
Index Table: Top Rated Work Boots for Plantar Fasciitis
---
---