The Pull-on work boot is preferred by many, especially in occupations requiring fuller coverage and a work boot that offers complete waterproofing, such as farm and ranch work or working in wet environments and with chemicals.
For most, the pull-on work boot is easy to pull on and take off and is likewise a big sales point.
However, many Pull-on work boots offer little comfort and supportive cushioning to absorb shock and arch support.
Pull-on work boots for Plantar Fasciitis need certain support and cushioning features to help with the treatment and symptom relief of the conditions.
As you will see from the Pull-On work boots that we have chosen, they have either full cushioning or our Layered cushioning, which provides ample cushioning for your heels to prevent pain associated with Plantar Fasciitis.
The stability shanks, and TPU counters provide a more stable platform that supports your feet if a flat or high arch may be causing or aggravating Plantar Fasciitis.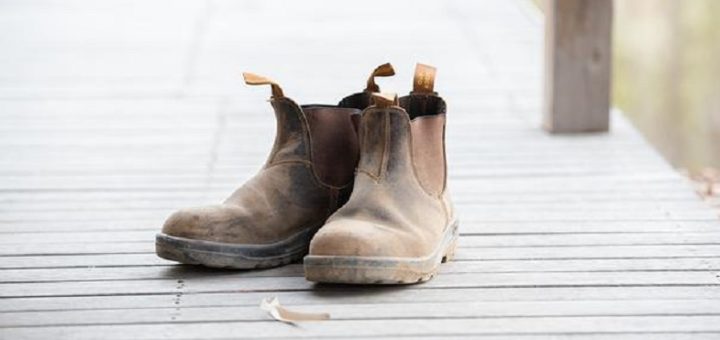 ---
---
Pull-on Work Boot Benefits
Firstly I would like to go into a bit more depth on why Pull-On work boots have become so popular and in which scenarios they can be most ideal;

Easy On and Off – Firstly, most Pull-On work boots are the best choice if you need to change shoes quickly, from your work boot to a more formal boot for on and off-site or for a certain purpose. Pull-on work boots are very convenient when changing shoes or simply putting them on and removing them.
Better Protection – Because of their more solid uppers and no laces or entry, pull-on work boots make the perfect fully waterproof work boots. They also fully prevent dirt or dust from entering your work boots and offer maximum protection against liquids and dirt. They also come in chemical-resistant models that fully protect you from spills of chemical liquids.
Ideal Scenarios – Farm Work, ranch work, and even working with chemicals or in any occupation where your feet may be submerged in liquids or where there may be liquid spills are all ideal scenarios you will greatly benefit from a pull-on work boot.
Comfortable – Most Pull-On work boots generally have a more relaxed and loose fit. However, please remember you cannot adjust the fit, such as with a lace-Up work boot. The Pull-On work boots we feature come with comfort and support features ideal for conditions such as Plantar fasciitis and generally prevent foot pain and fatigue.
---
Plantar Fasciitis and How it Affects Your Choice in Work Boots
For individuals who work on hard floors, are overweight, or have certain foot mechanics, such as a high arch, very low, or flat arch Plantar Fasciitis is a great risk.
When there is a strain on the tissues connecting your toes to the heel bone, called the Plantar Fascia, small tears or independence may occur, which cause the condition Plantar Fasciitis.
You may feel pain in and around the heel, particularly when you get up in the mornings.
Though not very severe, if left untreated, Plantar Fasciitis can disrupt your work day and become very painful, causing you to limp and eventually end up with other issues, such as back and knee pain.
Most work shoes can be rigid and uncomfortable, with little support to prevent or help treat the condition.
Thus, we want to look for work boots with specific cushioning and support features that reduce strain on your feet and provide pain-free relief.
---
Features of a Good Pull-On Work Boot for Plantar Fasciitis
Here are some features that are ideal ins a Pull-On work boot for Plantar fasciitis;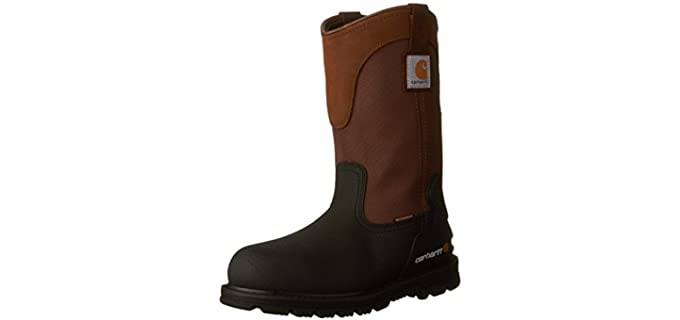 Uppers – Pull-on work boots will have solid leather, neoprene, or rubber uppers, usually longer or an ankle length. Many models are lined with moisture-wicking textile lining. They have a relaxed fit and generally roomy toe box.
Comfort and Support Features – Pull-On work boots for Plantar Fasciitis come with a supportive and contoured footbed, with a slight heel cup to properly align your feet and support your arches. They have a comfortable cushioned insole and a well-cushioned, shock-absorbing midsole, with a more flexible sole to allow natural movement.
Outsole – Work boots need a durable rubber outsole that will provide good slip or slip and oil resistance.
Safety Features – As with any other work boot, pull-on work boots can have a steel or composite safety toe, electrical hazard-safe materials, and good waterproofing. Some models may likewise be chemical resistant with a heat-resistant sole.
---
Reviews: The Best Pull-On Work Boots for Plantar Fasciitis
These are some excellent Pull-On work boot models that you can invest in if you have or want to prevent Plantar fasciitis;
---
1
The Georgia Mud Dog is a longer-length pull-on work boot for Plantar Fasciitis.
The work boot has full leather uppers with a steel safety toe.
There is a Molded TPU Shell and supportive steel shank, with a cushioned Comfort Core Insole.
The Comfort Core insole is ideal for Plantar Fasciitis as it provides good heel cushioning to reduce pressure on the Plantar Fascia.
The outsole is non-marking and slip-resistant.
---
2
The Carhartt Wellington work boot has leather uppers and is completely waterproof, with Storm Defender protection.
It has a Molded TPU counter and cushioned insole for Plantar Fasciitis pain.
The outsole is slip, oil, and chemical resistant.
The work boot is likewise electrical hazard safe.
---
3
The Ariat Rambler is a safety work boot with comfort features ideal for Plantar Fasciitis.
It has a safety toe and slip-resistant polyvinyl Chloride outsole.
There is an ATS technology footbed for stability with cushioning.
The work boots are leather and have ergonomic flexibility.
---
4
On the other hand, we also have the Ariat Groundbreaker pull-on work boot for Plantar Fasciitis.
It has a 90-degree heel for stability and Four Layers of rebound cushioning technology.
The uppers are leather with steel safety toes.
The work boot is slip-resistant and electrical hazard safe.
---
5
The Chelsea work boot from Ariat is a shorter ankle boot with an easy pull-on tab.
Similarly, it features the Four Layer of high rebound cushioning and a stable shank ideal for Plantar Fasciitis.
There is a steel safety toe and full waterproof leather uppers.
The outsole is a slip-resistant, durable rubber.
---
6
From Skechers, we have the Ruffneck pull-on work boot for Plantar Fasciitis.
The uppers are genuine leather, and there is a slip-resistant rubber outsole.
Inside is a supportive midsole and removable cushioned insole.
The outsole is a durable, slip-resistant rubber.
---
Index Table: Top Rated Pull-On Work Boots for Plantar Fasciitis
---
---