In hot weather, your work boots can become particularly uncomfortable, sometimes to the point where they can affect your work performance.
However, there is some good news, as you do ger Hot weather Work boots that accommodate for hot weather conditions, as well as working in hot environments.
These work boots may have a heat-resistant outsole that will not absorb heat, and lighter more breathable upper materials such as leather, with mesh insets, and a moisture-wicking lining.

---
How Hot Weather Affects Your Feet
For anyone that works outdoors under the blazing sun, or even someone that works in a hot environment, where there may be hot work, there can be some difficulties and demands;
Sweaty Feet – Loads of sweating, particularly sweaty feet can cause chafing and irritation that can lead to sores and blisters. Sweat also invites bacteria which in turn can lead to foot odor and even infections.
Cracks and Hard Skin – Hot weather can cause a loss of moisture in your feet which can cause the skin to become dry and crack. This in turn can be very painful.
Athlete's Foot and Fungus Growth – Sweaty feet and socks are a recipe for the growth of fungus and athletes' feet.
All these issues are what basically only affect your feet when working in hot conditions, not to mention the discomfort to the rest of your body. Hot Work Boots have features that cater to all these needs to keep your feet cool and ventilated.
---
Benefits of Hot Weather Work Boots
Wok Boots for hot weather hold many benefits in keeping you cool and comfortable under these work conditions, as well as providing proper comfort, support, and protection for your feet in your work environment;
Keep Your Feet Cool – With summer comes high temperatures and high humidity, and the same goes for work environments that are hot. Work Boots for hot conditions are manufactured with materials and technologies that allow better airflow through the work boots and that wick away moisture to keep your feet cool and dry, As a result, it will also aid to cool your body down in hot conditions.
Light and Sturdy Protection – Almost all cooling work boots come with safety features to protect your feet in hazardous work environments.
Dry Protection – In hot weather and conditions, any times you also have humidity that goes along with it. Most hot weather work boots have specific features that aim at wicking moisture away from your feet to keep them dry from sweat and humidity.
---
Features of a Good Hot Weather Work Boot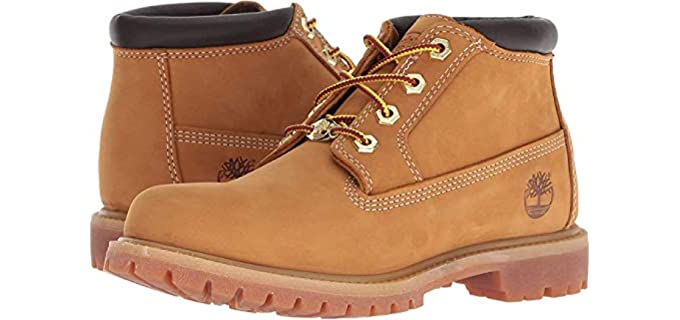 Mesh or Moisture Wicking Lining – A mesh or moisture-wicking lining inside your work boots can make a world of difference because it wicks away moisture and allows air to circulate throughout your work boots.
Slip Resistant Outsole – Any good work boot must have a slip-resistant outsole, some have oil and slip-resistant outsoles. The best materials to use in an outsole are rubber or Vibram rubber.
Safety Features – make sure that the work boots provide you with the needed safety features for your job desorption and work environment. These may be a steel or composite safety toe, composite being the cooler and lighter material, a slip-resistant outsole, and other safety features such as electrical hazard safe materials.
Lightweight and Comfortable – The Work boots need to be more lightweight, especially in hot conditions or weather as this will attribute to their cooling benefits. Other than that you also need some comfort and support features such as a cushioning footbed or insole, shock-absorbing midsole, arch support, or an anatomical-shaped footbed.
Materials and Construction – Look for work boos that consist of high-quality leather and textile materials that will breathe well and also be durable enough for work purposes. Goodyear Welt and Cement construction methods are the most durable and highest quality. Make sure that the work boots are of good quality, it is always better to go with a well-known brand. look for construction with mesh insets, textile, or perforations in the leather of the work boots. these features offer more ventilation to the work boots and allow them to stay cooler. Generally, leather work boots that have fewer features such as cushioning, and a steel toe will also remain much cooler.
---
Reviews: The Best Work Boots for Hot Weather
These are our top favorite choices for Hot Weather Work Boots;
---
1
The Carhartt Rugged Flex is a comfortable work boot that is ideal for hot weather conditions.
It has 1005% leather uppers with a more lightweight composite safety toe and a FastDry technology moisture-wicking and cooling lining, which is ideal for hot weather.
The work boots are electrical hazard safe and meet ASTM standards.
For comfort the is a shock-absorbing EVA midsole and a PU Strobel pad, that is cool and lightweight.
---
2
The RedWing Heritage is also a good option for working in hot weather.
The workboat has leather uppers and a comfortable lining.
It is a lightweight and cushioned work boot that has little features that could cause your feet to overheat,
The outsole is durable and slip-resistant.
There are also many colors available in this work boot.
---
3
The Timberland Pro Euro Hiker is more of a hiking style boot that can be used as a work boot,
It has full-grain leather uppers with a waterproof lining.
It is very durable and has an all-weather TPU outsole with a cushioning polyurethane midsole.
There is dynamic anti-fatigue technology in the footbed and a fiberglass shank for structural support.
---
4
The Thorogood American Heritage is a premium breathable work boot for hot weather.
The work boot is leather with a breathable lining,
It has a MaxWear slip-resistant wedge style outsole.
Inside us is a removable and shock-absorbing footbed for comfort and support.
---
5
From Keen Utility, we have the Flint which is a steel toe work boot ideal for hot conditions.
The work boot has side cut-outs for ventilation and a very lightweight.
There is a dual-density midsole for cushioning and a stability shank for support.
The work boots have a durable and slip-resistant rubber outsole.
---
6
The Timberland Nellie is a waterproof ankle work boot for hot weather conditions.
The work boot is designed specifically for women, with an ankle cut design.
It has leather uppers and a rubber outsole.
There is an EVA cushioned midsole and comfortable footbed.
The work boot is breathable and waterproof.
---
Index Table: Top Rated Work Boots for Hot Weather
---
---