The Chelsea Work Boot is a specific, pull-on ankle boot that many individuals favor among work boots.
However, most Chelsea work boots do not meet safety standards and sometimes have the most desirable safety features. They are a very comfortable work boot option that can still offer ample protection.
The Chelsea work boot has a very specific style; it is a slip-on work boot but may have a side zip closure. Chelsea work boots are distinguished by their close fit, with an elastic side for easy entry and pull tabs on the back only or in the back and the front.
Most Chelsea work boots have a very basic design with few features.
So, if you are looking for a Chelse work boot, you have come to the right place.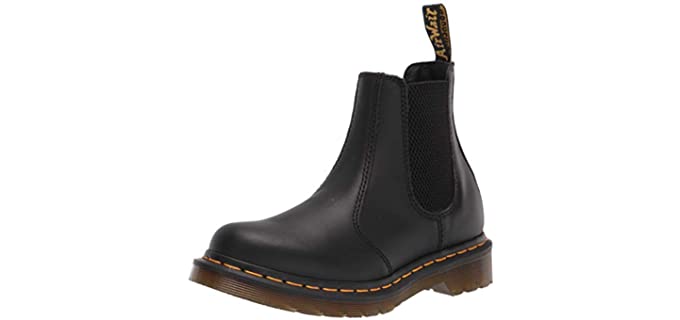 ---
---
The Chelsea Work Boot and It's Origins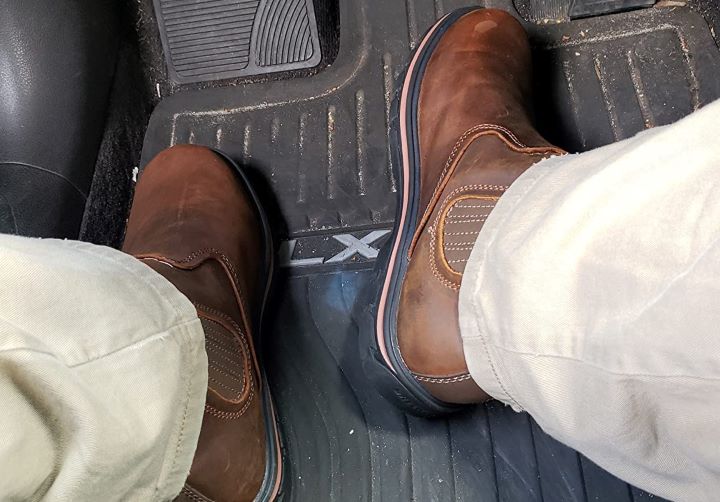 There is quite some history surrounding the Chelsea boot.
The cobbler designed the first Chelsea boot that Queen Victoria used, J. Sparkes, in England in 1837.
They were known as Paddock boots with a Vulcanized rubber sole and elasticated sides for time-saving purposes.
Vulcanized rubber employs a method of adding sulfur to rubber to make it more elastic and slip-resistant.
The Vulcanized rubber sole is one of the main features of the Chelsea Boot.
Once patented, the boots became popular among Victorian men and women for walking, riding, and gaining status.
Generations later, the Chelsea boot is still a sophisticated and much-used style, even available in safety work boot designs.
So why is it now called a Chelsea boot?
In the 1950s, the boots became a style item worn by trendsetters, mostly in the fashionable Kung's Road area in Chelsea in west London. The "Chelsea Set" artist and fashion group started to wear the boots regularly, and thus, they became the Chelsea Boot.
---
What Constitutes a Chelsey Work Boot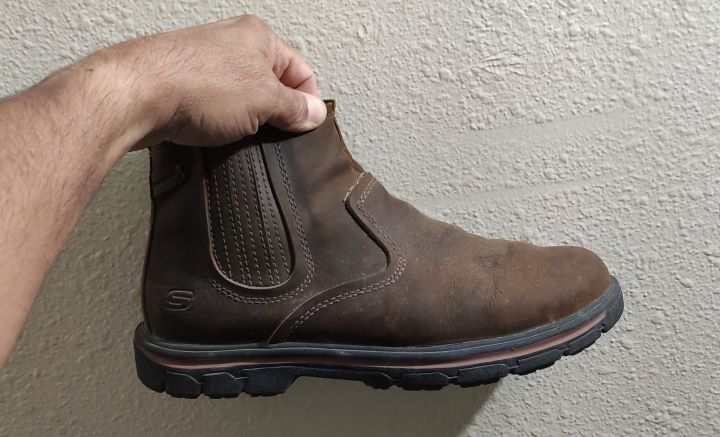 The original Chelsea boot is a laceless ankle boot with elastic panels on the sides for quicker and easier on and off. The Chelsea boot is a hallmark of the original Chelsea boot style.
However, today, there are many other styles and changes from the original design, especially in Chelsea work boots for safety;
Vulcanized Rubber Sole – The original Chelse Boot has a more flexible Vulcanized rubber sole that is slip-resistant. However, the sole may differ in Chelsea Workboots.
Elasticated Sides – There are elastic gore insets on the sides of a Chelsea boot to make them easier to put on and take off because of their snug fit.
Ankle Height – The Chelsea work boot will only cover the ankle slightly for some extra protection.
Low Heel – An original Chelsea boot has a low heel rather than a flat uniform sole.
Two Parts – A Chelsea work boot comprises two leather pieces. One for the front and one for the back joined together near the ankle using a piece of vulcanized rubber or an elastic gusset. The design makes them much more durable and long-lasting.
Round Plain Toe – Typically, a Chelsea boot has a more rounded and plain toe style with a medium to narrow width. It has a clean look with no adornment to the vamp.
Pull Tugs – Chelsea boots need a more snug fit. The pull tugs at the front and back allow you to easily get the Boot on and off because of the snug fit.
---
Features of a Good Chelsea Work Boot
Besides their unique design, Chelsea work boots have many similar features to regular work boots.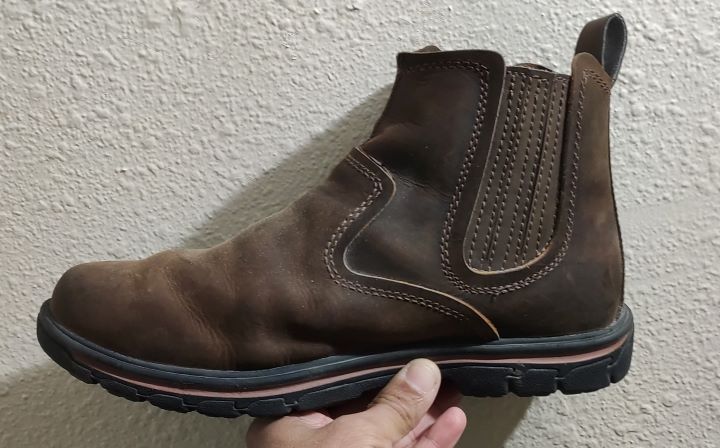 Uppers – Chelsea work boots will have genuine or synthetic leather uppers with a smooth or suede finish. They also have an elastic gore at the sides for easy on and off and easy pull tabs. The toe is usually rounded and has a comfortable, roomy design.
Support and Comfort Features – Mostly, Chelsea boots offer limited comfort features besides an EVA insole; however, as you will see, many of the models we have chosen offer layered cushioning arch support and a more cushioned and supportive footbed. Then again, most Chelsea work boots also come with a smooth, moisture-wicking lining.
Outsole – Chelsea work boots will generally be durable and slip-resistant rubber outsole. Depending on the model, some may also have an oil and chemical-resistant outsole.
Safety Features – Chelsea work boots are mostly fully waterproof or water-resistant because of the pull-on design. Some do have a steel or composite protective and are electrical hazard safe.
Options – Most Chelsea work boot brands offer some neutral color varieties and plenty of sizes in their work boot models.
---
Reviews: The Best Chelsea Work Boots
We hope you love the products we recommend!
We may collect a share of sales or other compensation from the links on this page.
---
1
The Ariat Groundbreaker is the perfect safety work boot in a Chelsea boot design.
It has an Iconic ankle height, elastic sides, and comfortable pull tabs for easy on and off.
For safety, it is waterproof and comes with a steel toe cap.
The work boot has a 4LR four-layered rebound technology cushioned footbed in comfort.
Furthermore, the durable rubber outsole is slip and oil-resistant.
---
2
The Skechers Dorton Chelsea work boot is basic and durable.
It consists of 100% genuine leather and has a Chelsea style.
There is a pull tab at the back for easy on and off.
The Boot is very durable and comes in more neutral colors.
It has reinforced stitched seams and a durable slip-resistant rubber outsole.
---
3
The Keen Anchorage is a Pull-on Chelsea work boot.
The work boot has two pull-on tabs and is available in three color selections.
It has leather uppers and is waterproof.
There is an ESS shank for stability and a slip-resistant rubber outsole.
For comfort, you have a cushioned insole and light insulation.
---
4
The Carhartt Chelsea work boot is a soft-toe leather work boot.
The work boot is ideal for less hazardous work environments.
It has leather uppers and a soft toe that is very lightweight, comfortable, and offers an adaptable fit.
There is a slip-resistant rubber outsole and a comfortable Insite Technology footbed.
---
5
The DR Martens Chelsea work boot is extremely durable.
It has genuine leather uppers that are water-resistant.
The Cupsole is slip-resistant and lightweight.
The Boot has a stylish, rugged look.
However, this is a work boot for a less hazardous environment.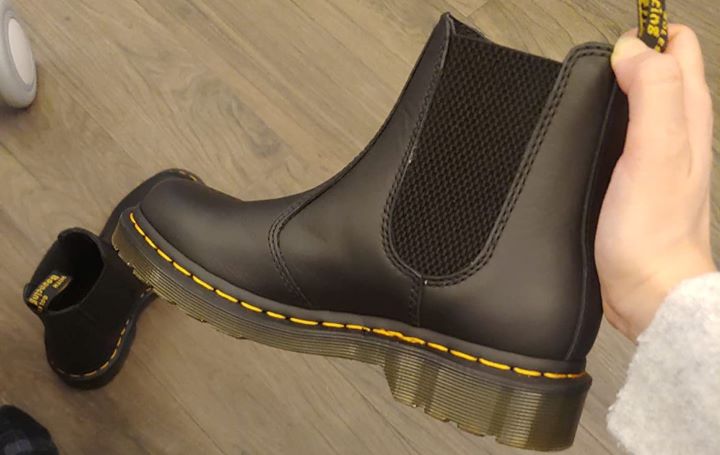 ---
6
The Blundstone Chelsea work boot is perfect for women.
The work boot has water-resistant leather uppers and a PU-cushioned midsole.
The outsole is a durable and slip-resistant rubber.
There are also more colors available from which you can choose.
---
Index Table: Top Rated Chelsea Work Boots
---
---