Many people today prefer a work boot with zip closure. As you will see, most law enforcement work boots and tactical work boots similarly come with zip closure.
The best zipper work boots have many benefits and specific functions ideal for particular occupations and work environments.
firstly, any good work boot needs safety features, required for your specific occupation and work environment, which may include a steel or composite safety toe, electrical hazard safe materials, waterproofing, and a slip-resistant rubber outsole.
secondly comfort features such as a cushioned insole, and shock-absorbing midsole is ideal for keeping you comfortable and preventing fatigue.
A zipper work boot needs a very durable zipper, such as a YKK zip, and most tactical and pull-on style work boots may feature a zip closure.
Today, we will go into detail with the different types and uses of zip closure work boots.

---
Benefits of a Zipper Work Boot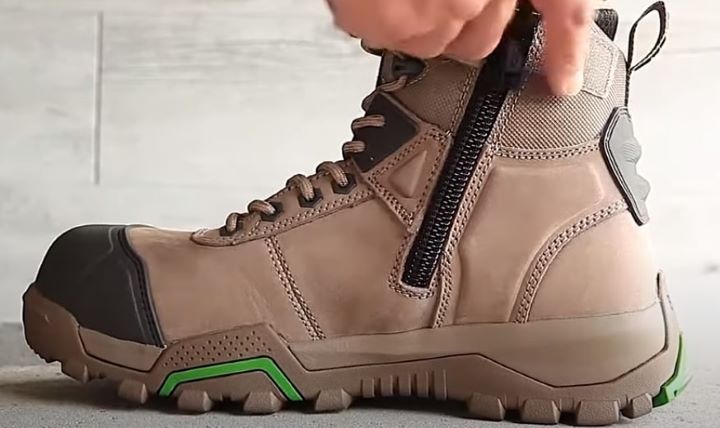 Well, for this topic, I would also like to into what occupations benefit mostly from a zipper work boot, and how;
Put on and Take Off Faster – Well, this is the main benefit of a zipper work boot, the fact that you can take it off and put it on faster. So any occupation where you need to change shoes fast is well benefited by a zipper work boot.
Proper Fit – As with laces, you never need to adjust the fit of a Zipper work boot as it will offer the same snug fit every time.
No Laces in the Way – Many work occupations, particularly law enforcement, can be hindered by loose laces. When you are on a high-speed chase, there is no time to stop and tie your laces, and you also do not want to trip over them. With a zipper work boot, you never need to tie adjust or be scared of tripping over loose laces.
Pull-On Work Boots – Most pull-on work boots have a loose fit, which is not ideal for many of us. But the zipper closure pull-on design work boot will give you the same qualities, with a more snug and comfortable fit.
Occupations for Zipper Work Boots – Zipper work boots are ideal for any occupation, specifically in law enforcement and military, thus why they are more prevalent in tactical work boots. Zipper work boots are also ideal for occupations where you need to change your choice frequently or where laces may cause a hindrance. That said, my list contains tactical work boots, industrial work boots, and may pull-on work boot styles that all have a zipper closure.
---
Choosing the Best Zipper Design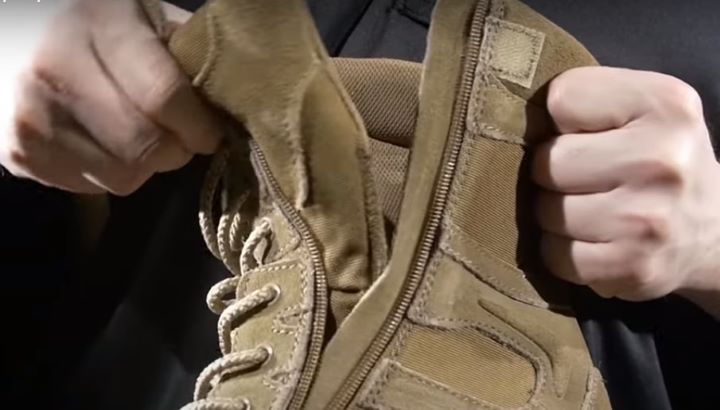 If there is anything I have learned from zippers, it is that a YKK zipper is the absolute best on the market, so if you can find a work boot with this type f zipper, you are getting great quality.
Other than that, some other brand zippers are also stepping up to the mark regarding quality and durability and should not be missed.
Generally, I would look for a zipper that does not have a painted coating and that looks and feels sturdy and solid in design.
What is also crucial is the stitching and constriction of the entire zipper. Look for reinforced and durable stitching and construction that will not tear loose easily.
---
Features of a Good Zipper Work Boot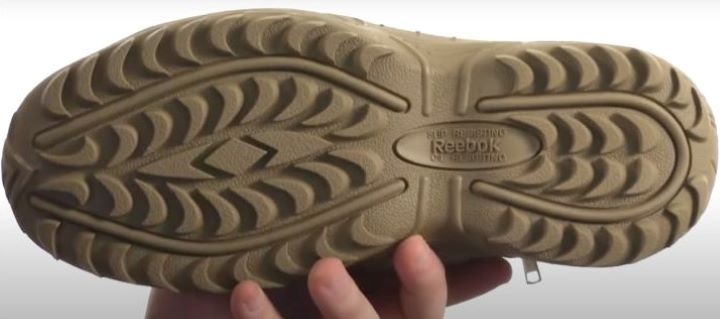 Work Boot Design – Most Zipper work boot will come in four designs; A tactical work boot that is most prevalent with zippers, Pull On work boots, Industrial work Boots, and wedge sole work boots.
Construction – Goodyear Welt, welt, or cement construction makes for the toughest and best quality work boots. The uppers can consist of either genuine leather, Nylon, or a blend of the two with mesh insets for breathability. Rubber for the sole is most advised.
Zipper – The best zipper brand is a YKK zipper; look for proper stitching around the zipper and a durable design.
Safety Features – Safety features can include a steel or composite protective toe, waterproofing, electrical hazards safe materials, nylon or steel shank for puncture protection, as well as oil and slip resistance in the sole.
Comfort Features – For comfort, a cushioned insole or footbed can be added, along with a shock-absorbing midsole and moisture-wicking interior lining.
---
Reviews: The Best Zipper Work Boots
Here is our list of a variety of work boot types and constructions that all have a zipper closure design;
We hope you love the products we recommend!
So that you know, We may collect a share of sales or other compensation from the links on this page.
---
1
A durable design work boot with tough zipper closure from Thorogood.
The uppers are genuine full leather.
A rubber sole with GEN-Flex2 technology for flexibility and a lug tread for grip.
Goodyear Storm Welt Construction improves flexibility, durability, and waterproofing in the boot.
They have a side zip closure that is durable and well-constructed, so it will last long adn allow you easy access to your work boots.
A composite shank provides good underfoot protection.
---
2
The Timberland PRO Valor has a convenient side zipper and a completely waterproof design.
The work boots are full leather with a slip-resistant synthetic sole.
The uppers are fully waterproof and breathable.
There is a durable side zip closure.
The composite toe provides effective toe protection that is more lightweight.
---
3
The bates Tactical work boot features a durable, quality YKK zipper design.
The uppers are leather with a protective toe bumper and a waterproof membrane for full waterproofing.
Mesh insets provide breathability and ventilation.
The zipper is an excellent quality YKK design for easy on and off.
A durable rubber outsole with an enhanced arch provides better stability and support.
Furthermore, cement construction ensures flexibility and durability in the sole.
---
4
The Carhartt Work boot has a handy zipper closure and a lightweight, protective toe.
The Uppers are 100% waterproof leather.
The work boot has a lightweight composite protective toe.
The sole is flexible and very lightweight, with light padding for comfort.
A rubber outsole provides good slip resistance and durability.
Moreover, the boot has a durable zip closure system.
---
5
The Harley Davidson work boot is a light-duty work boot with a classy style and a zipper closure.
This is a more classy styled professional environment work boot for on and off-site.
It is available in two leather options, black or tan.
The fit of the work boot is adjustable with lace-up features and a zipper closure when you have the perfect fit.
They have a durable and slip-resistant synthetic outsole.
---
6
The Insulated and waterproof cold weather work boot from Thorogood likewise features a sturdy zipper closure.
This range is popular for the Gen-Flex2 flexible sole.
They have leather work boots with Goodyear Storm Welt Construction for waterproof protection.
The Composite shank provides excellent underfoot protection and also stability.
There is a removable single-density polyurethane insole for comfort and cushioning.
The boot has a side zip closure and is fully insulated.
---
7
The Iron Age is an industrial safety work boot with a side zip closure.
The uppers are genuine leather with durable zip closure.
The lug rubber sole ensures ample traction and grip on most surfaces.
Inside is a padded mesh sock liner for comfort and wicks away moisture.
Inside is a Wellington Flex-Met metatarsal Guard to protect your feet from falling objects.
---
8
The Kamik Champlain 2 is an insulated, waterproof, zip-up cold weather boot.
This boot has a top closing zipper and suede and leather uppers.
As you see, it also has a protective toe and heel bumper and durable slip-resistant outsole.
The uppers are insulated with 200 grams of 3M Thinsulate insulation and completely waterproof,
You can choose from either a black or brown color option in this specific boot model.
---
9
The Ariat Overdrive is a comfortable steel toe safety work boot with zipper closure.
The uppers have leather and mesh for breathability and ventilation to keep you cool.
Inside is a comfortable ATS MAX sole to help relieve foot fatigue.
The durable rubber outsole has a lug tread for slip resistance and grip.
The steel toe protects your toes against heavy falling objects.
Moreover, the boot has a handy zip closure system.
---
10
The Magnum Stealth Force is a Tactical work boot with a durable YKK zipper Closure.
These are leather and Nylon tactical design boots.
They are lightweight and breathable, as well as ASTM-rated electrical hazard safe.
The sole is synthetic and offers a good grip.
There is a durable and quality YKK zipper closure on the side of the boot.
They are also airport safe and completely waterproof.
---
Index Table: Top Rated Zipper Work Boots
---
---