One of the most basic shapes and styles in industrial and other work boots is the 6 Inch work boot.
This means that the length of the work boot's shaft is 6-inches.
This is an ideal length to secure your ankles and separates a work boot from a work shoe.
As you will find ost work boots are 6 inches, they offer a padded collar and a secure heel fit for ankle support. the work boot in general may have safety features including waterproofing, a safety steel or composite toe, and a slip-resistant outsole.
Comfort features may include cushioning, and a firmer support midsole, along with a smooth moisture wicking lining.

---
The Difference Between and 6-Inch and 8-Inch Work Boot
Ideally, the work boot that you choose needs to suit your specific occupation and work environment and protect you against the hazards present in your work environment.
Your work boot should allow you a full range of motion and should not feel clunky when wearing it.
So how does the six-inch work boot differ from the eight-inch work boot?
Six-Inch Work Boots – Six-Inch work boots are ideal for farmworkers, construction workers, and many other industrial jobs as they offer excellent flexibility and support, They are ideal for walking in uneven terrains, and they tend to bend more easily if you need to crouch, climb and be active all day. Generally, six-inch work boots are ideal for restaurant workers and even office jobs.
Eight Inch Work Boots – The eight-inch work boot has a 2-inch longer shaft ideal for additional ankle protection and stability. They are more suited to police officers, security guards, and military positions. They are much less flexible but typically provide you with more support instability. I would not ideally recommend eight-inch work boots for construction and similar jobs where there is a lot of movement involved, such as bending and climbing.
---
Choosing a Good 6-Inch Work Boot
When choosing the best six-inch work boot, there are a few other criteria that you will need to take into consideration;
Toe Protection – A good work boot may have a soft toe or a protective safety toe. The safety toe can be steel, alloy, or composite.
Construction – The Construction of the work boot will predict how durable the boot will be. Goodyear Welt and Cement construction methods are of the most durable.
.
---
Features of a Good 6 Inch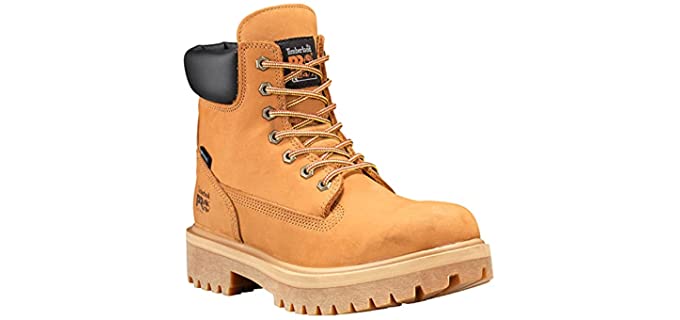 Uppers – A good work boots should have genuine leather uppers with a moisture wicking lining.
Comfort Features – Look for a work boot with a cushioned and nd supportive footbed that helps to fight foot fatigue and provides stability.
Safety Features – A steel, composite or alloy safety toe provides toe protection, while and underfoot shank provides puncture resistance.
Waterproofing – Many work boots are fully waterproof for liquid protection. They may have a treated leather, or breathable waterproof membrane.
Outsole – The outsole should be rubber with a slip, or oil and slip resistant tread.
---
Reviews: The Best 6 Inch
Following are some of our top favorite six-inch work boot models and brands;
---
1
The Timberland Pro Direct Attach is one of the most durable and comfortable six-inch work boots, with a padded collar, good cushioning, and waterproof technology.
The work boot is a more basic design for all work purposes than a full-on safety boot.
It has leather uppers with a textile lining to wick away moisture and keep your feet dry.
The 6-inch work boot features a durable rubber outsole that offers superior traction and slips resistance, with excellent durability.
It has Pro 24/7 suspension technology, a unique comfort system providing cushioning and arch support to fight fatigue.
It has seam-sealed waterproof leather uppers that are is very moisture-wicking and breathable for everyday use.
Highly durable with direct-attach construction.
---
2
The Carhartt Traditional 6 inch work boot is perfect for all work environments that need extra safety features.
The work boot has a protective steel toe and leather uppers for your safety.
It is a construction work boot that is electrical hazard safe and very durable, with an oil and slip-resistant outsole.
For your comfort, there is a cushioned footbed, as well as a cushioned collar.
---
3
The keen Utility Cincinnati is a 6-inch wedge sole work boot.
Wedge sole work boots are ideal for asphalt paving, where you want your boots to collect gravel and debris in the sole.
The wedge sole is cushioning, non-marking, oil, and slip-resistant rubber.
The uppers are genuine leather with a composite safety toe that is more lightweight and electrical hazard safe materials.
The work boot has Goodyear Welt construction and enhanced durability for extreme conditions.
The work boot has an air-infused midsole and pillow-top cushioning for your comfort.
---
4
The Skechers Workshire Relaxed Fit workboat is a steel toe boot with a 6-inch shaft.
The steel toe protects you against compression and crushing elements that may injuries your toes.
The workboat has leather uppers and is available in wider widths.
It has a durable, slip-resistant rubber outsole and a comfortable, relaxed fit.
Inside is comfortable cushioned, as we can all expect from Skechers.
---
5
The Keen Utility Pittsburgh is a top favorite 6-inch work boot.
The work boot has 100% nubuck leather uppers and is more a hiking-style work boot.
It has a durable and slip-resistant rubber sole and locking lace-up metal hooks for a secure fit.
The work boot is fully waterproof and comes with a protective steel toe.
There is a dual-density compression-molded EVA and PU midsole and removable metatomical, dual-density EVA footbed for support and comfortable cushioning.
The work boot also has a leaf and asymmetrical steel toes for comfort.
---
6
I have also chosen the Skechers for Work Worskhire Peril for the Ladies as a 6-inch work boot.
The work boot is extremely comfortable with a removable gel-infused memory foam footbed and relaxed fit design that is roomy and comfortable.
The work boot has a steel toe and genuine leather uppers for durability in protection.
The rubber outsole is oil and slip-resistant, with very lug patterns on the tread.
---
Index Table: Top Rated 6 Inch
---
---