Tactical and Combat boots are work boots used by individuals in the Navy, marines, police, and law enforcement agencies.
The Tactical Work Boot is designed to provide protection and comfort for these specific occupations and generally makes a comfortable and protective work boot.
Tactical boots are designed to be breathable, with very secure ankle support for jumping and climbing, thus the longer length, as well as good cushioning for hard underfoot impact. They are generally waterproof and highly slip-resistant.
The best tactical work boots can be a challenge to find with so many options available, but that is why we are here to help you find your perfect match.

---
---
Why You Need a Proper Tactical Work Boot
Just as important as a proper running shoe is to an athlete, a proper tactical work boot is important to an officer of the law or a soldier.
Law enforcement officers and soldiers are on their feet most of the time. They run, jump, and climb, often in hot, wet, or inclement weather conditions.
For this reason, they need a comfortable boot with the right protection features that still breathe well as offer flexibility and a lightweight fit.
---
How to Choose the Right Tactical Work Boot
Here are a few tips on choosing the best tactical work boots;
Ankle Support – As you will see, most tactical work boots are 8 inches and some 6 inches. This length protects and holds your ankles in place as you jump, run, climb, and perform various tasks. Your ankle needs good support to prevent strains and sprains in these awkward positions.
Flexibility and Lightweight – A good tactical boot needs to move easily with you and not be too rigid; it also needs to be lightweight enough to prevent foot fatigue.
Cushioning and Support – Some stability features help you stay stable and balanced on your feet. In contrast, cushioning, particularly in the heel and midsole, provides good shock absorbency on those jumps and runs.
Safety Features – Tactical Boots generally should protect against wetness, flames, heat, oil, water, and puncture resistance.
---
Features of a Good Tactical Boot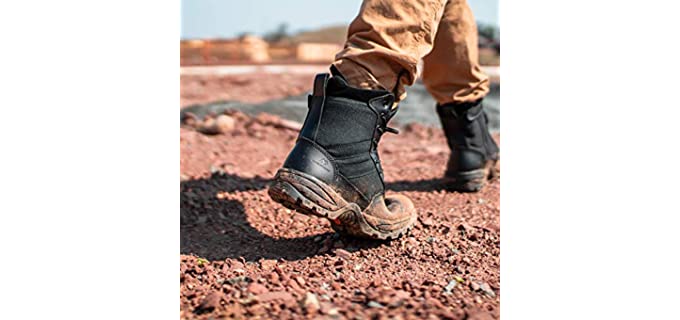 Height – A height of 6 or 8 inches is generally acceptable to provide good ankle support and protection of the legs and ankles.
Materials – Rubber is desirable for the outsole, while leather, nylon, and mesh are for the uppers.
Flame Resistance – Flame protection is desirable but not a necessity.
Waterproofing – Look for waterproofing that is also breathable.
Grip and Traction – A non-slip, oil and water-resistant, heat and abrasion-resistant outsole is most advised.
Comfort and Support – Look for a cushioned insole, good arch support, and a shock-absorbing midsole.
---
Reviews: The Best Tactical Boots
In our extensive list, you will see some top brands and models of the best available tactical work boots and jumping boots;
We hope you love the tactical boots we recommend!
We may collect a share of sales or other compensation from the links on this page.
---
1
---
2
The ATAC Tactical boot is lightweight and has a jump shock mitigation system.
The leather uppers are durable and have fabric inserts for breathability.
There are two color options available in a light and dark selection.
The boots have a 5.11 shock mitigating system and cushioned insole for support when jumping.
The rubber outsole is oil and slip-resistant with a semi-rigid heel and toe reinforcement.
They have a multi-purpose design and a comfortable fit.
---
3
The Bates GX-8 is a composite protective toe tactical work boot available in a few lights and neutral color selections.
The Uppers are leather and nylon for lightweight durability,
There is a zipper closure with a tough YKK side zipper.
The Composite toe is security gate approved and offers a safety feature.
Inside is a lightweight cushioned midsole and a removable cushioned insole for comfort.
---
4
The Original SWAT Metro Air is comfortable as it is tough, with a 9-inch height and zip closure.
The Uppers are mostly Nylon with some leather for durability.
The sole is leather, and there is a polishable leather toe.
Inside is a custom-molded phylon EVA midsole for cradled support and a Nylon shank for puncture protection.
A visible heel air cell provides impact protection for jumps.
---
5
The Danner Arcadia is one of the top names that come to mind when you mention the best available tactical work boots.
The Danner Arcadia is an 8 Inch boot with leather and Cordura uppers.
It has a tough Vibram rubber sole and a puncture-resistant Fiberglass shank.
The Uppers are Gore-Tex lined for breathable waterproofing.
Stitch-down construction makes the boot recraftable.
---
6
A comfortable and lightweight minimalist tactical work boot that is lightweight and breathable.
A minimalist design tactical boot for more freedom and flexibility.
It is the standard military height with leather ad denier uppers from cowhide and 1000denier Cordura nylon.
The midsole has a 2mm die-cut shock-resistant design, and the outsole is 100% oil and slip-resistant rubber.
There is only a 2mm heel-to-toe drop,
The seam is double and triple-stitched for durability.
---
7
A very durable tactical work boot with a breathable and fully waterproof GORE-TEX lining.
The uppers are genuine leather only, and the toe is polishable.
The leather is 100% waterproof with 500 denier nylon.
A Gore-Tex lining is used for waterproofing, which is much more breathable a lightweight. For better contact, a Danner Tachyon slip and oil-resistant rubber outsole with pentagonal lugs.
The speed lacing system is durable with brass hardware.
---
8
The Smith and Wesson Tactical boot is a top brand with a durable, comfortable foam padded, cushioned work boot.
With impressive craftsmanship, leather and nylon uppers make this a durable tactical boot.
Inside is comfortable and cushioned insole with foam padding.
The rubber outsole is oil and slip-resistant on all terrains.
There is also a steel protective shank n the sole.
---
9
The Thorogood Tactical Jump boot features the flexible and comfortable Gen-Flex2 outsole design and cushioning for jumps.
The boot is genuine leather with a high-shine polishable cap,
Inside is a single-density polyurethane cushioned footbed for comfort.
The gen-Flex design outsole is more flexible and durable,
Constructed using the best Goodyear Storm Welt construction for water resistance.
---
10
The Maelstrom Tac FORCE is a Waterproof Military and Tactical work boot with a zipper closure design.
There are a lightweight, shock-absorbing, molded EVA midsole for comfort and support and a cushioned insert.
Athletic cement construction allows for better flexibility and durability.
The uppers are polishable full-grain leather and nylon, and there is a durable oil and slip-resistant outsole.
Two-color options are available in this specific model.
---
Index Table: Top Rated Tactical Boots
---
---