Your feet may become sweaty and uncomfortable if you spend long hours in your work boots, particularly in hot weather.
Nothing is worse than a wet and sweaty work boot that can affect your performance. Thus, you need the best work boots for sweaty feet to keep your feet dry and comfortable all day.
Look for work boots that are leather or textile, with perforations or mesh insets for breathability. A moisture-wicking lining will also help to reduce sweat build-up. Opt for waterproof work boots with a Gore-Tex membrane that is more breathable.

---
Why Your Feet sweat in Your Work Boots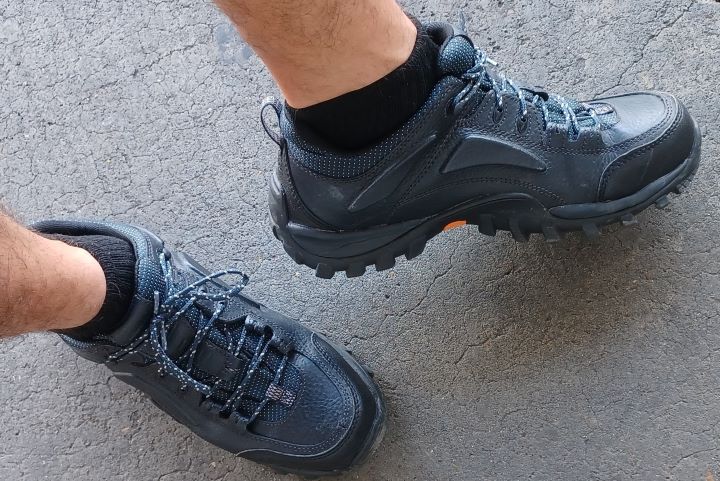 You will be surprised to see how a well-made boot with the right materials and technologies can prevent excessive sweating and keep your feet cool and dry as needed.
Things like the shaft height, moisture-wicking materials, and isolation of your work boots can all play a role in increasing or decreasing the levels of sweating in work boots.
There are quite a few factors in work boots that can cause excessive sweating in your feet, some to do with the material and others n the way the boot supports your feet.
You will need to spend some time considering these factors in your work boots;
Shaft Height – Lower profile work boots will be less prone to sweating because of their more open design. Work Boots with a higher shaft can cause air to travel too great a distance to escape and trap it inside the work boot, which reduces circulation.
Arch Support – When your feet are not well supported and comfortable in your shoes, especially when you have a very low or very high arch, they can be under more severe pressure. Feet under more strain and pressure do not just become fatigued faster but are likewise more prone to sweating.
Work Boots Materials – If the work boot does not consist of breathable materials, then your feet will sweat. Work boots that are heavy with materials that do not breathe and that insulate will cause excessive sweating.
---
Breathability Characteristics to Look for in a Work Boot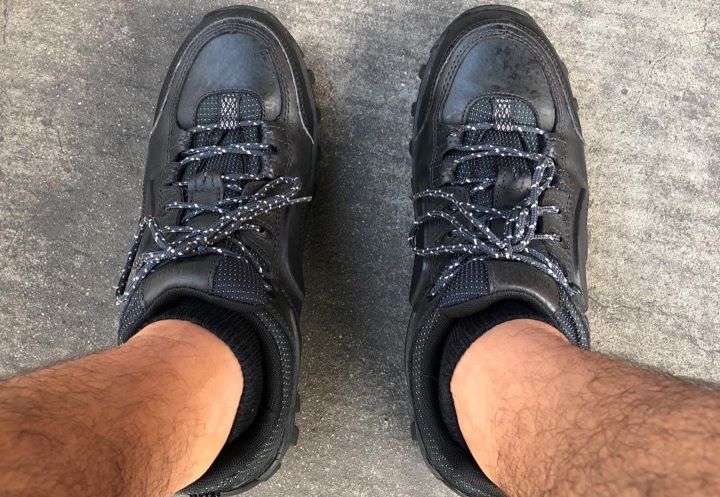 Luckily there are many work boots available today that breathe well and that have some excellent characteristics to prevent excessive sweating;
Shorter Shafts – Work boots with a shorter shaft will allow for much better air circulation, opt for a work boot that is either less or never more than six inches in shaft length.
Breathable Waterproofing – Many work boots are waterproof and have a lining to keep water out. Some designs are less breathable because of the waterproof lining. Gore-Tex is a waterproof membrane that is also very breathable and waterproofing. Opt for waterproof linings that are also breathable.
Mesh Lining – An interior mesh lining helps your feet breathe inside the work boots and wicks away moisture.
Other Technologies – Work Boots also come with other technologies such as mesh insets in the actual outer shell of the boot, interior cooling insoles, and linings that wick away moisture ad comfort features such as cushioning and arch support to keep your feet comfortable and reduce strain.
---
Features of a Good Work Boot for Sweaty Feet
Here are the characteristics that you should consider in a work boot that will help reduce sweat;

Ani Sweat Features – Firstly, you need to look for a work boot with anti-sweat features, including a mesh lining or mesh insets for breathability. An Ortholite sockliner provides cushioning and wicks away moisture. FastDry and waterproof technologies such as Strom defender and Gore-Tex membranes also improve moisture wicking and breathability. Furthermore, lightweight leathers and materials used in the boot construction without heavy linings and padding will also help keep your feet dry and comfortable.
Safety Features – You will need to consider the safety features required by the boot for your work environment and occupation. Most safety work boots have steel, alloy, or composite safety toe, a slip or slip, and an oil-resistant lug rubber outsole. Other than that, some work boots have electrical hazard-safe materials and chemicals or heat-resistant soles. Some work boots also have a steel or fiberglass underfoot shank for puncture protection and stability.
Comfort Features – Comfort features in work boots include a cushioned insole and EVA or foam midsole for shock absorbency. There may also be a moisture-wicking lining, padded collar, and tongue.
---
Reviews: The Best Work Boots for Sweaty Feet
In our list, we have some of the best available work boots that are sure to keep your feet dry and comfortable, even for excessive sweating;
We hope you love the products we recommend!
So that you know, We may collect a share of sales or other compensation from the links on this page.
---
1
The Timberland Pro Mudsill is a steel-toe safety work boot that will help with sweaty feet.
It has a lower profile, which is ideal for keeping your feet well-ventilated.
The work boot is leather with a moisture-wicking lining and breathable materails, with a slip-resistant rubber outsole,
It offers excellent cushioning and arch support, so there is less strain on your feet.
---
2
The Bates UltraLite Tactical boot can also be used as a work boot for various work environments and duties.
It has leather and nylon uppers with a design for better breathability.
A moisture-wicking interior lining keeps your feet dry and well-ventilated.
The work boot has a removable cushioned insert and an EVA midsole for comfort and support,
---
3
The Caterpillar Second Shift is s steel-toe work boot for sweaty feet.
It has leather uppers, a protective steel toe, and Goodyear Welt construction for durability.
The work boot has a rugged slip-resistant outsole and is electrical hazard safe.
Because of its lightweight design, it is breathable and will prevent excessive sweating.
---
4
The Wolverine Raider is a lightweight leather work boot for sweaty feet.
The rubber sole is slip, oil, and abrasion-resistant and has Multishox technology for shock absorbency,
A Multishox insole for comfort and support is also fully cushioned.
Inside is a breathable, moisture-wicking Ck mesh lining to keep your feet dry and comfortable.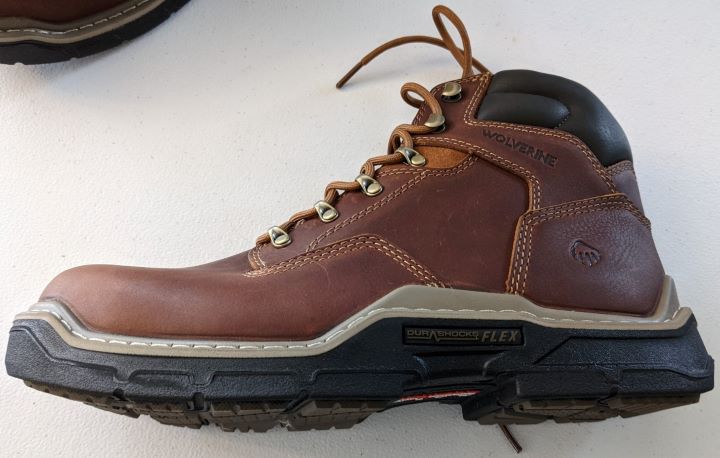 ---
5
The Wingshooter from Irish Setter is another excellent choice for sweaty feet.
The work boots Are safe with steel toe, electrical hazard safe materials, and a rubber and EVA high traction outsole for slip resistance that is also heat resistant.
It has a very breathable UltraDry waterproof lining and an interior moisture-wicking lining.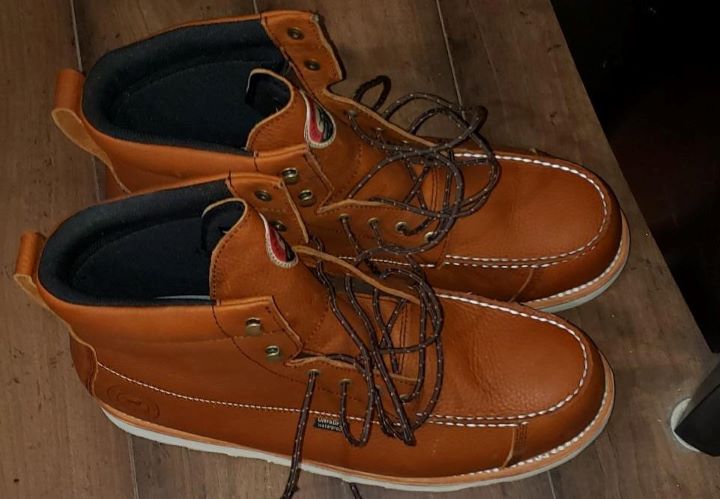 ---
6
The Carhartt Rugged Flex is a composite toe work boot with FastDry technology for sweaty feet.
The FastDRy technology is a lining that wicks away sweat from the work boot to enhance breathability and reduce odors.
The work boot is only six inches, making it better for ventilation.
Furthermore, it has an EVA midsole and PU foam insole for comfort and support and Strobel pads for stability.
There is a more lightweight composite protective toe.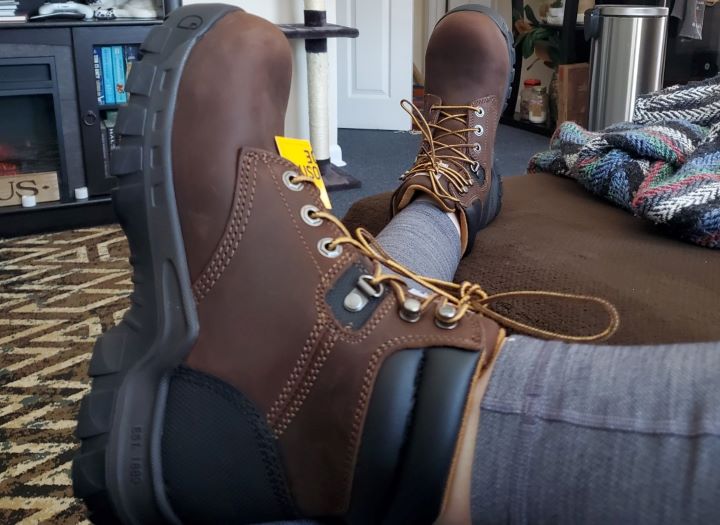 ---
Index Table: Top Rated Work Boots for Sweaty Feet
---
---