There is nothing as bad as working on cold or even wet feet. Cold feet can become extremely uncomfortable and painful, not to mention your risk of frostbite, should they also be wet.
Most insulated work boots will have either Thinsulate insulation from 200 grams or more or fully waterproof uppers.
If you work in cold, wet, and snow conditions, it is imperative to have the best winter insulated work boots to keep your feet warm and comfortable.
If you want to know more about warm insulated work boots, you have come to the right place.

---
Why You Need a Good Insulated Work Boot
Working in temperatures that can reach extreme cold, wet or even snow conditions exposes your body and feet to many issues;
Frost Bite – Frost Bite is the most common issue that usually affects the feet, hands, and tip of your nose, as they are the least protected areas. Frostbite occurs in degrees from lite to mild, and then more severe where you have deep tissue damage, and your fingers or toes become a purple-black color. Frostbite can be very dangerous, especially in severe cases.
Trench Foot – Trench foot occurs when you work in colds and damp or wet conditions, Your feet become itchy, blotchy, and painful, they may also swell and have a prickly feeling. An insulated waterproof work boot and good moisture-wicking lining will help prevent this.
Toenail Fungus – Moisture and wetness in your work boots can also lead to toenail fungus, which can become infected and painful. Likewise, toenail fungus is more likely to occur in cold weather conditions.
---
How to Choose the Best Insulated Winter Work Boot
Generally, a work boot needs to be comfortable and durable, with a good slip-resistant outsole and safety features that protect you against hazards in your occupation.
But when it comes to working in cold and extremely cold weather conditions, two main Characteristics are vital;
Insulation – Insulation refers to the interior lining of your work boot to keep your feet warm inside. There are many types and forms of insulation, of which Thinsulate is usually the most ideal in a work boot. Insulation ranges in different weights, such as 200grams, which is the lightest for cool and colder weather, and 1600 grams for extremely cold and snowy weather. The insulation and interior linings should also breathe well. A moisture-wicking lining should be present to keep your feet dry, as they can become even cold and uncomfortable when wet and sweaty.
Waterproofing – Just as you need good insulation inside to keep you warm, you also need protection from the outside against wetness and liquids seeping in. Thus, proper waterproofing is required. A Gore-Tex waterproof membrane is the most sought after as it breathes well. Water resistance is not ideal as it only keeps wetness out, whereas waterproofing will properly shield you against wetness, snow, rain, and even wading through water.
---
Features of a Good Winter Insulated Work Boot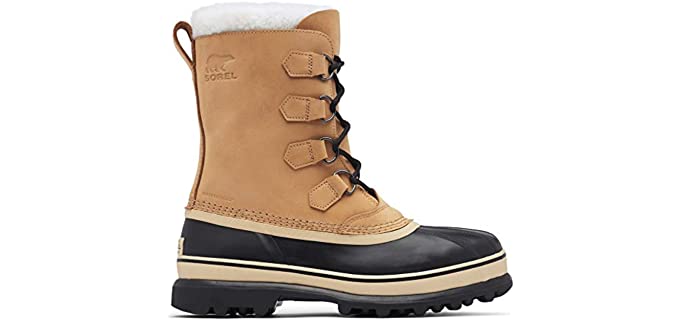 Uppers – Uppers usually consist of durable genuine leather with a waterproof lining or membrane such as Gore-Tex, which is the best.
Insulation – The lining which insulates you against cold on the inside of the boot can consist of various types and materials. Thinsulate is the most common and best, consisting of wonderful fibers that insulate well and are still breathable. Wool and Felt materials are usually removable liners that provide warmth depending on their thickness. Primaloft fibers are similar to natural down and are not affected by water. Shearling linings, usually fleece, or synthetic fur, are very warm and plush. Insulation ranges from 200 grams to 1600 grams, which is the highest.
Comfort Features – Comfort and support features include a cushioned insole, stabilizing features, or a shock-absorbing midsole.
Construction Methods – Goodyear Welt, Welt, and Cement construction are the best and toughest construction methods.
Outsole – The outsole needs exceptional slip resistance, particularly on icy, snow, and wet terrains and surfaces. It should be rubber with lug tread patterns.
Safety Features – Most Insulated work boots will also be waterproof. Electrical hazard-safe materials, a slip, oil-resistant outsole, and a steel, composite, or aluminum safety toe are all safety features in winter work boots.
---
Reviews: The Best Winter Insulated Work Boots
In our comprehensive list, you will find some of the best available work boots for cold weather and even for snow conditions;
We hope you love the products we recommend!
So that you know, We may collect a share of sales or other compensation from the links on this page.
---
1
---
2
The Timberland Pro Thermal Force is a fully insulated work boot nine inches long for ultimate protection.
The uppers are full-grain leather with a fabric lining.
Inside is a Smartwool lining and an Efficient 3M Thinsulate zone for insulation and warmth without the bulk.
The Thermal Xl safety toe has an insulated ceramic coating so you can stay warm.
The leather uppers are fully waterproof.
There is also an aluminized Myla insole to prevent heat loss on ground contact and a slip-resistant outsole,
---
3
The Sorel Winter boot is ideal for snow and ice cold weather conditions with an Inner Boot for Warmth and a non-tracking lug outsole.
The winter boots are genuine leather with a vulcanized waterproof rubber shell,
The Sole Aero trac non-loading rubber outsole is slip-resistant and durable.
There is a removable ThermoPlus felt inner boot for warmth and comfort,
They also have an Acrylic wool cuff for warmth and comfort,
---
4
The Carhartt Rugged flex is a comfortable and flexible work boot insulated and waterproof for cold weather conditions.
The boots have fully waterproof leather uppers that are oil-tanned and durable.
There is a removable EVA cushion for comfort and a puncture-resistant Swen Flex PR plate that is flexible.
Inside is a Storm defender waterproof membrane and 400 grams of 3M Thinsulate insulation.
They are also ASTM-rated safety work boots that ate electrical hazard safe with a composite protective toe.
---
5
The Columbia Bugaboot 2 is the latest in this superb range of snow boots.
There are waterproof leather uppers with Ghillie lacing for fast and easy on and off.
The outsole is a non-marking high traction rubber for excellent slip resistance,
A Techylite lightweight midsole offers comfort and cushioning.
The bots also have an injection molded shell design.
---
6
The Timberland PRO Direct Attach is the perfect cold-weather work boot, with a lug rubber outsole for slippery surfaces.
The uppers are 1005 genuine leather with waterproof seam-sealed construction.
There is a molded nylon shank for support and underfoot protection.
The Thinsulate insulation offers excellent warmth and insulation for cold weather conditions,
The lug rubber outsole ensures durable traction.
---
7
The Baffin Wolf is designed for cold weather conditions, snow, and icy surfaces.
The Baffin Wolf consists of 900 Denier Nylon that is insulated and waterproof.
They are thick and protective snow boots with a warm interior lining.
The snow collar has a locking design to keep the cold out.
There is also a durable and high-grip rubber outsole.
You can choose from three available color options in this work boot model.
---
8
The ECCO Track is a Gore-Tex-lined waterproof, insulated work boot in a few color selections.
The ECCO track is 100% durable leather and ankle length.
The boots are insulated and waterproof with a Gore-Tex breathable lining,
Inside is a breathable textile lining.
There are also three colors available in this work boot model.
---
9
The Wolverine Marauder is a pull-on Work Boot with rubber insulation and waterproofing.
The uppers are genuine leather with a fully waterproof lining.
They have a solid wellington design and insulation for warmth.
The rubber outsole offers excellent slip resistance.
They are also fast and easy to pull on and off.
---
10
The Danner Crafter is a durable, insulated, waterproof work boot for cold weather conditions.
The Danner Crafter is an 8-inch height work boot that is genuine nubuck leather,
The boots have an anatomical design and a broader toe box for a more responsive and comfortable fit.
The Danner offers you full waterproof protection and Thinsulate Ultra insulation for warmth.
The dual-density footbed ensures comfortable cushioning and support,
There is also an Airthotic heel clip for better heel support and stability.
Furthermore, the outsole is slip-resistant and very durable.
---
Index Table: Top Rated Winter Insulated Work Boots
---
---