Most electricians know exactly how important an Electrical Hazard safe work boot is in their industry, and that is why they wear the best electricians' work boots.
Besides the electrical hazard safety, other protective features that an electrician's work boot may need depend on their work environment. Not to forget comfort features for this line of work, where you may be on your feet for many long hours.
Thus and electrical hazard safe rated work boots are a must, then you need to think about comfort. As electricians work in very awkward positions, they need work boots that can bend and flex as needed, and that will be comfortable, especially on fit, and underfoot cushioning.
In some work environments, you may need a steel or safety toe work boot, which you need to make sure is also electrical hazard safe.
---
Why Do Electricians Need Specified Work Boots
Electricians are exposed to many risks daily and therefore need a proper work boot;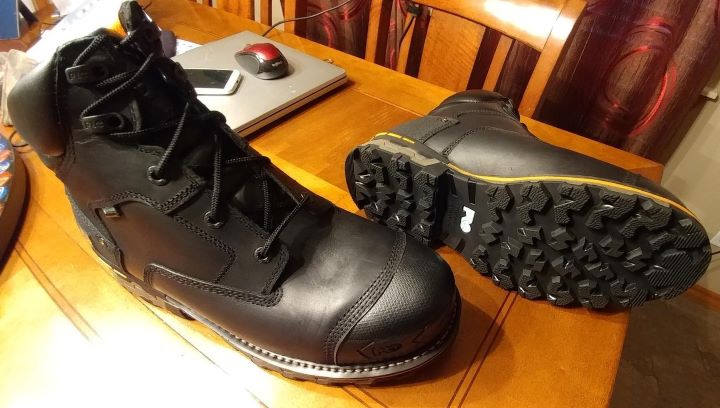 Electrical Hazard Safety – Because electricians mostly work with open circuits and electricity, they are at a huge risk of getting an electrical shock. A work boot with non-conductive materials will protect them and insulate them against electrical shock.
Comfort – Electricians are mostly on their feet in awkward positions performing intricate tasks. Therefore they need a comfortable work boot to support their feet and reduce foot fatigue.
Other Protective Features – Besides electrical Hazards, electricians also face other dangers such as heavy falling objects, wet work conditions, chemicals, and abrasion risks from which they need protection. Thus it depends on your work environment and industry standards to which safety features you will need.
---
How To Choose the Right Electricians Work Boot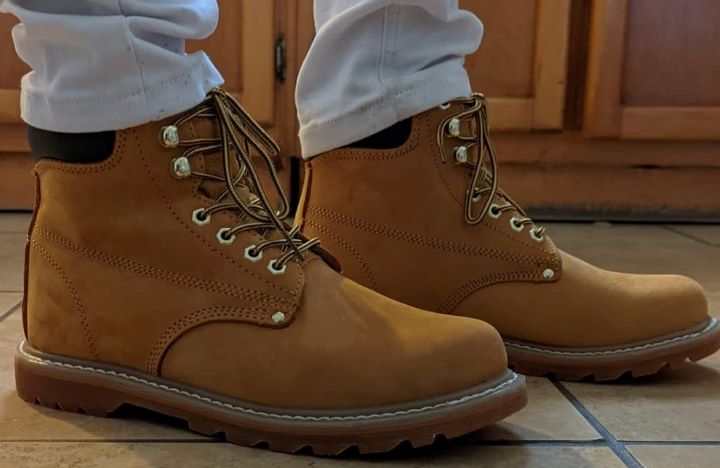 Most Electricians Workboots will have an EH (Electrical Hazard Safe) rating. They are insulated to help ground electricity not contact live circuits, and electrical equipment may cause an electrical shock to the electrician.
Some have conductive materials to protect you against static electricity build-up in a work environment with much static electricity.
Besides that, a protective steel or composite toe protects heavy falling objects, waterproofing is ideal for wet environments, and a slip and oil-resistant rubber outsole will make sure you are protected against slips.
---
Features of a Good Electricians Work Boots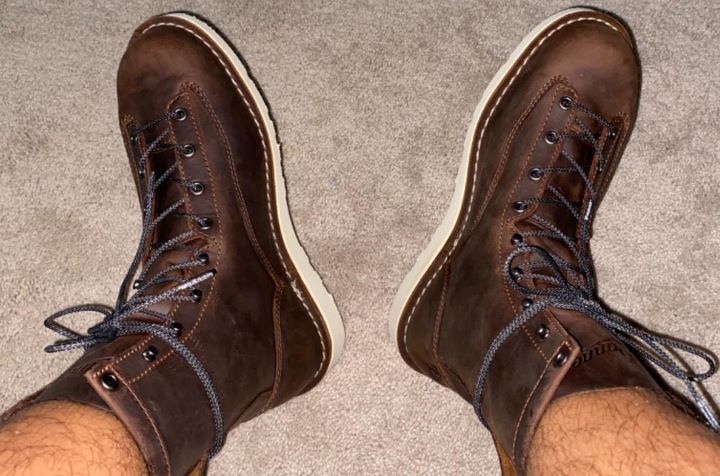 Uppers – Look for Non-Conductive leather or nubuck leather uppers. Rubber is also a good non-conductive uppers material.
Comfort Features – Ensure that the work boot has a comfortable cushioned insole or footbed and a shock-absorbing EVA or foam midsole to protect your feet against hard impacts. In addition, a moisture-wicking lining will keep your feet cool and dry. Also, make sure the boot provides adequate support in the arch area of your feet.
Safety Features – Safety features will include electrical hazard safe materials and EH standards; Waterproofing and abrasion resistance, and an oil, abrasion, water, and slip-resistant outsole design.
Outsole – Rubber is your best option for a good outsole material in an electrician work boot. A lug tread provides good traction and grip on most floor surfaces.
---
Reviews: The Best Work Boots for Electricians
Here we have a list of the top favorite work boots that are perfect for electricians as well as electrical hazard safe compliant with industry standards;
We hope you love the work boots we recommend!
So that you know, We may collect a share of sales or other compensation from the links on this page.
---
1
---
2
The Gen Flex is a comfortable and electrical hazard-safe boot for electricians from Thorogood.
A comfortable Composite toe safety work boot that is ASTM compliant and electrical hazard, safe for electricians.
The uppers are leather with Goodyear Storm Welt construction.
There is a single-density Polyurethane footbed and an EVA cushioning flexible midsole for comfort.
The Gen-Flex2 outsole is flexible and bendable to move with you, as well as slip-resistant.
---
3
The Danner Bull Run Cristy is a comfortable and cushioned electrical hazard-safe work boot ideal for electricians on their feet all day.
A leather work boot that consists of durable oiled and full-grain leather for the uppers,
The boots are handcrafted, and stitched down construction is used for strength and durability.
They are electrical hazard protection ASTM F2892-18 EH compliant.
Inside is a cushioned Ortholite footbed for comfort.
The rubber outsole is slip and oil-resistant.
---
4
Ever Boots are a new and popular work boot with many safety features, and comfort features ideal for electricians.
The uppers are genuine leather and very durable.
There are two color options from which you can select.
This boot model is electrical hazard safe and has a soft toe.
The rubber outsole is durable and slip-resistant.
Goodyear Welt construction is used for durability and strength.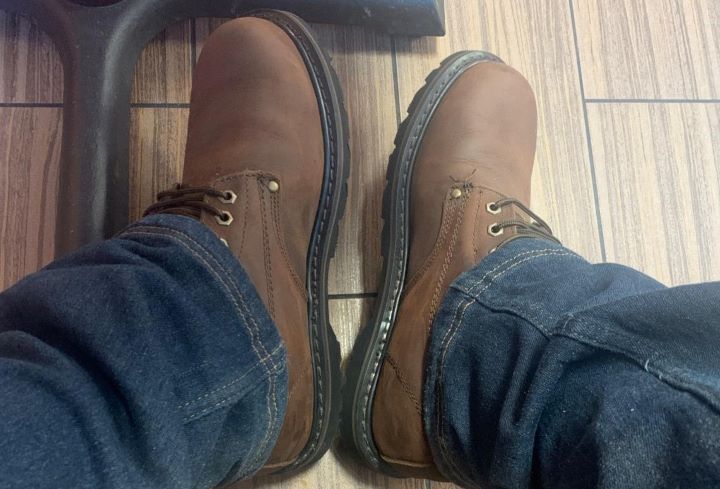 ---
5
The Carolina Domestic Workboot is electrical hazard safe and has a protective toe cap.
An electrical Hazard rated genuine leather work boot.
There is a comfortable and removable cushioned Polyurethane footbed.
The toe has a steel safety cap that is still electrical hazard safe.
The Meramec Raptor Polyurethane Outsole is very durable and slip-resistant.
---
6
The Carhartt Waterproof Workboot is electrical hazards safe, fully waterproof, and comfortable.
This is a comfortable electrical Hazard safe and compliant boot.
The non-safety toe and Electrical hazards safe materials are meet ASTM f2892-18 EH standards.
The uppers are durable genuine leather, and there are two colors available.
The sole is a soft wedge design with a durable rubber outsole for slip resistance.
They are Goodyear Welt constructed for durability and are completely waterproof.
Inside is a cushioned and comfortable insole.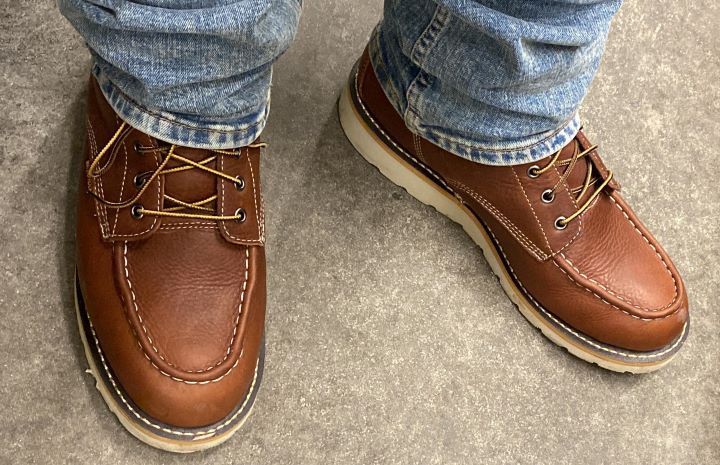 ---
7
This model from Carhartt is everything and more that you need in the perfect electrician's work boot.
The uppers are durable leather with a composite protective toe.
The entire boot has Rugged Flex technology that allows you to flex, bend, and move effortlessly.
The rubber sole is shock-absorbing and oil, slip, and chemical resistant.
The leather uppers are constructed using Cement construction for strength.
You can also select from two available color options in the electrical hazard safe work boots.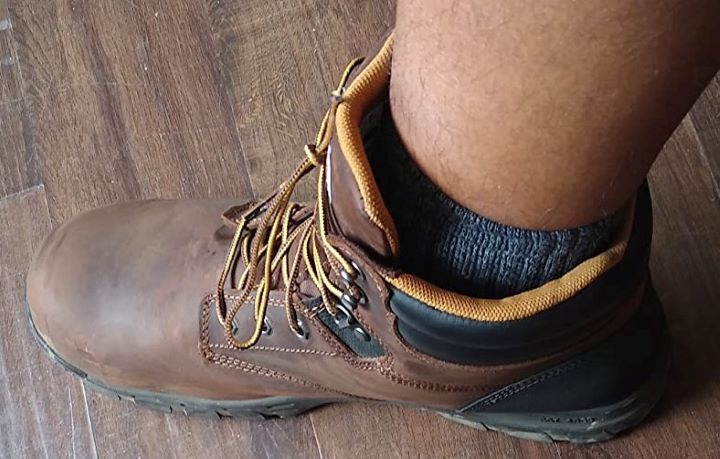 ---
8
The boots are available in two color options form, which you can select.
They have leather uppers with a breathable mesh lining and are waterproof.
The rubber outsole is oil and slip-resistant.
The boots are Electrical Hazard ASTM F2413-17 M I/75 C/75 EH rated and a rated Carbon toe.
Inside is a rebound foam technology insole for comfort and support.
---
9
The Irish Setter is a steel toe and electrical hazard safe work boot with many comfort features.
The Irish Setter Steel Toe Work Boot offers steel toe protection yet is still electrical Hazard safe.
The uppers are genuine leather, and there is a removable Polyurethane footbed for comfort,
The boots are Electrical Hazard safe and meet ASTM F2413-11, M/I/75/C/75 Safety Standards.
The King toe technology has a larger toe box with 44% more toe room than the standard Irish setter work boots.
---
10
The Caterpillar Navigator is a work boot that is electrical hazard safe and waterproof.
The Uppers are leather and have a waterproof membrane
Inside is a removable cushioned insole that cushions your feet for comfort.
The work boots are durable and have a soft toe design that is electrical hazard safe.
The rubber outsole is fully slip-resistant.
---
Index Table: Top Rated Electricians Work Boots
---
---