Most electricians know exactly how important an Electrical Hazard work boot is in their industry, so they wear the best electricians' work boots.
Besides the electrical hazard safety, other protective features that an electrician's work boot may need depend on their work environment. Remember the comfort features of this line of work, where you may be on your feet for many long hours.
Thus, if electrical hazard-safe work boots are necessary, you must consider comfort. As electricians work in very awkward positions, they need work boots that can bend and flex as needed, and that will be comfortable, especially on fit and underfoot cushioning.
In some work environments, you may need a steel or safety toe boot, which you must ensure is also electrical hazard safe.
---
Why Do Electricians Need Specified Work Boots
Electricians are exposed to many risks daily and, therefore, need a proper work boot;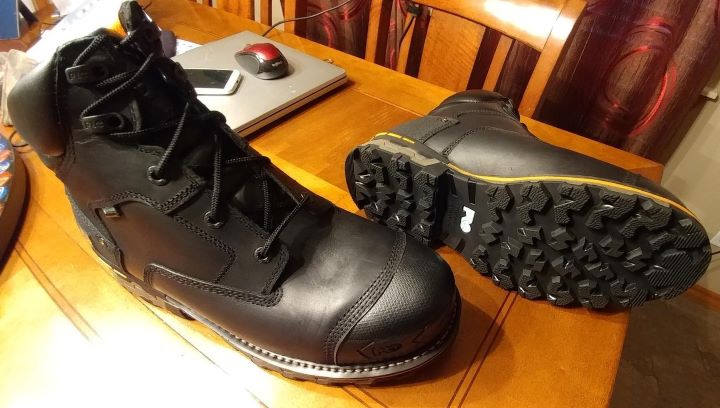 Electrical Hazard Safety – Electricians mostly work with open circuits and electricity, so they are at a huge risk of getting an electrical shock. A work boot with non-conductive materials will protect and insulate them against electrical shock.
Comfort – Electricians are mostly on their feet in awkward positions performing intricate tasks. Therefore, they need a comfortable work boot to support their feet and reduce foot fatigue.
Other Protective Features – Besides electrical Hazards, electricians also face other dangers such as heavy falling objects, wet work conditions, chemicals, and abrasion risks from which they need protection. So, it depends on your work environment and industry standards to which safety features you need.
---
How To Choose the Right Electricians Work Boot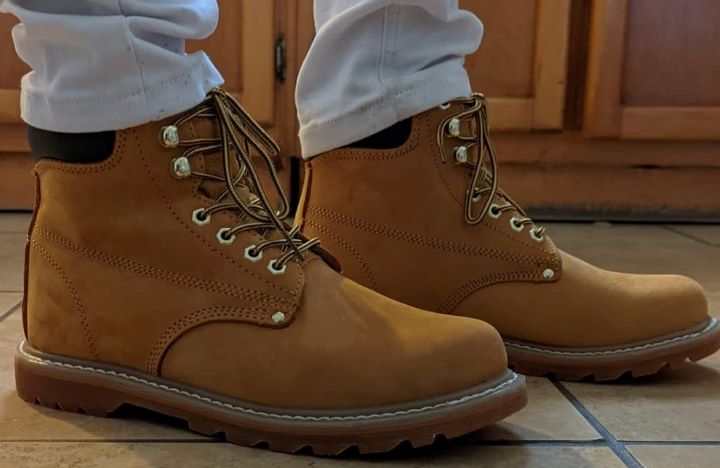 Most Electrician's Workboots will have an EH (Electrical Hazard Safe) rating. They are insulated to help ground electricity, not contact live circuits, and electrical equipment may cause an electrical shock to the electrician.
Some have conductive materials to protect you against static electricity build-up in a work environment with much static electricity.
Besides that, a protective steel or composite toe protects heavy falling objects, waterproofing is ideal for wet environments, and a slip and oil-resistant rubber outsole will protect you against slips.
---
Features of a Good Electricians Work Boots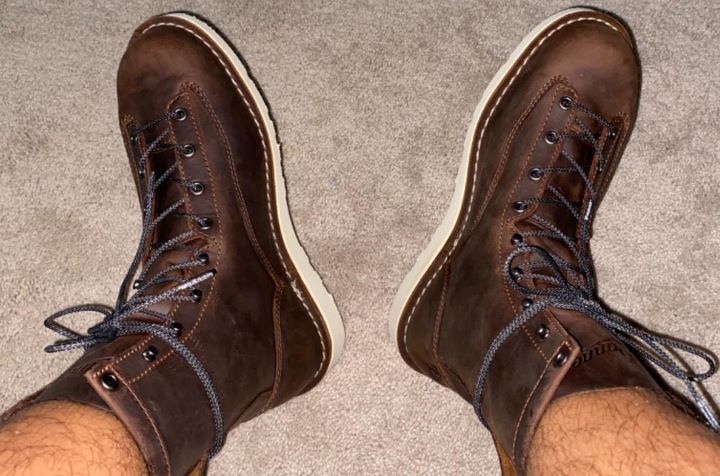 Uppers – Look for Non-Conductive or Nubuck leather uppers. Rubber is also a good non-conductive upper material.
Comfort Features – Ensure the work boot has a comfortable cushioned insole or footbed and a shock-absorbing EVA or foam midsole to protect your feet against hard impacts. In addition, a moisture-wicking lining will keep your feet cool and dry. Also, could you ensure the boot provides adequate support in the arch area of your feet?
Safety Features – Safety features will include electrical hazard-safe materials and EH standards, Waterproofing and abrasion resistance, and an oil, abrasion, water, and slip-resistant outsole design.
Outsole – Rubber is your best option for a good outsole material in an electrician work boot. A lug tread provides good traction and grip on most floor surfaces.
---
Reviews: The Best Work Boots for Electricians
Here we have a list of the top favorite work boots that are perfect for electricians as well as electrical hazard safe compliant with industry standards;
We hope you love the work boots we recommend!
We may collect a share of sales or other compensation from the links on this page.
---
1
---
2
The Gen Flex work boot by Thorogood has proven to be an excellent choice for electricians like me. I've used these boots extensively, testing every feature, and here's my first-hand experience:
Composite Toe Safety: Safety on the job is paramount, and these boots provide it. The composite toe offers protection comparable to steel but without the weight. As an electrician, I often work around sensitive equipment, so having non-metallic and corrosion-resistant toe caps is a significant advantage.
Electrical Hazard Safe: Knowing that these boots can withstand 18,000 volts in dry conditions provides a sense of security. Electric shock-resistant soles and heels make a massive difference, especially when dealing with electrical installations.
Durable and Comfortable: The black tumbled, oiled, full-grain leather uppers are not only durable but also comfortable. I've worn these boots for long hours without feeling any discomfort or fatigue. The Goodyear Storm Welt construction adds to their overall durability.
Footbed and Midsole: The single-density Polyurethane footbed and EVA cushioning flexible midsole offer exceptional comfort. They absorb shock and keep my feet well-supported throughout the day.
Slip-Resistant: The Gen-Flex2 outsole is a winner when it comes to slip resistance. I've worked in various conditions, and the boots have provided excellent traction, even on wet surfaces.
Non-Metallic and Lightweight: These boots are completely non-metallic, from the composite toes to the hardware (eyelets). This minimizes the chance of scratching sensitive work surfaces and keeps them lightweight, which is a significant plus for all-day wear.
In conclusion, the Thorogood Gen Flex work boots have proven to be the perfect choice for electricians. They offer a combination of safety, comfort, and durability that is essential in our line of work. I've tested them in various conditions and have found them to be reliable, whether I'm working with electrical systems or on slippery surfaces. These boots have become an essential part of my work gear, and I wouldn't hesitate to recommend them to my fellow electricians.
---
3
I recently had the opportunity to try out the Danner Bull Run Cristy work boots, and they have proven to be an exceptional choice for electricians who require both comfort and safety on the job. These boots have been specifically designed to meet the needs of electricians, and I can confidently say they have exceeded my expectations. Here's a detailed account of my experience:
Day-Long Comfort: One of the standout features of these boots is the incredible comfort they provide. As an electrician, I spend long hours on my feet, and the cushioning open-cell OrthoLite footbed in these boots ensures that my feet remain comfortable throughout the day. Foot fatigue is no longer a concern, even during extended shifts.
Durable Leather Uppers: The quality of the boots is evident in the durable oiled, full-grain leather uppers. They not only provide strength and protection but also give the boots a classic and appealing appearance. The handcrafted design and stitchdown construction contribute to the overall durability of these boots.
Electrical Hazard Safety: Safety is paramount for electricians, and these boots meet the necessary electrical hazard protection standards, complying with ASTM F2892-18 EH requirements. Knowing that my feet are well-protected when working around electrical systems is incredibly reassuring.
Superior Traction: The Danner Wedge non-marking, oil-and-slip-resistant outsole is a game-changer for me. It delivers outstanding traction and stability, even on slippery surfaces. This is particularly important for navigating through various work environments safely.
In conclusion, the Danner Bull Run Cristy work boots have become my trusted companions on the job. They strike a perfect balance between comfort, durability, and safety. The OrthoLite footbed keeps my feet comfortable even during the longest shifts, and the rugged leather uppers ensure they can withstand the challenges of the job. For electricians like me, the electrical hazard protection these boots offer is invaluable. Moreover, the slip and oil resistance of the outsole is a significant advantage when working in diverse conditions. These boots have made a real difference in my daily work routine, and I wholeheartedly recommend them to my fellow electricians.
---
4
Ever Boots is a new and popular work boot with many safety and comfort features ideal for electricians.
The uppers are genuine leather and very durable.
There are two color options from which you can select.
This boot model is electrical hazard-safe and has a soft toe.
The rubber outsole is durable and slip-resistant.
Goodyear Welt construction is used for durability and strength.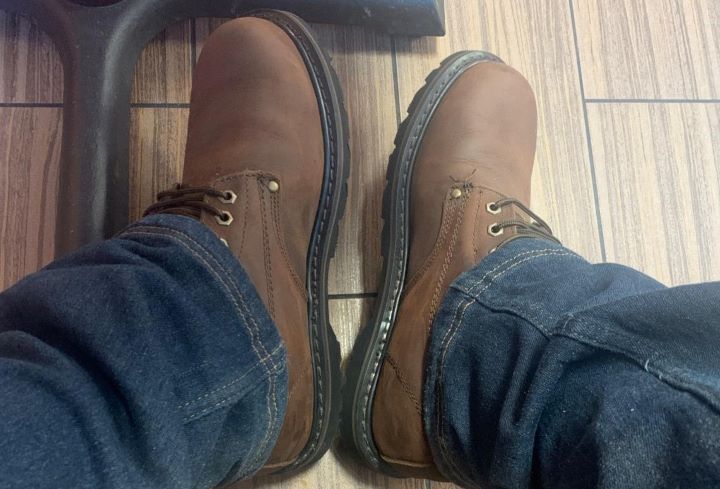 ---
5
The Carolina Domestic Workboot is electrical hazard-safe and has a protective toe cap.
An electrical Hazard-rated genuine leather work boot.
There is a comfortable and removable cushioned Polyurethane footbed.
The toe has a steel safety cap that is still electrical hazard-safe.
The Meramec Raptor Polyurethane Outsole is very durable and slip-resistant.
---
6
These boots excel in terms of electrical hazard safety, waterproofing, and overall comfort. However, there's one drawback worth noting. The weight of these boots can be slightly noticeable after a full day on the job. If you prioritize lightweight footwear or your work involves a lot of walking, this could be a potential downside.
Now, here's the hidden gem: the Goodyear Welt construction. You might not spot it at first glance, but it's a mark of durability. It ensures that these boots can handle tough conditions and keep going strong for the long haul. It's the kind of detail that often goes unnoticed but adds real value to the product.
When it comes to comfort, these boots incorporate anti-fatigue technology. This system is designed to absorb shock and return energy to your feet, providing all-day support and comfort—a feature that makes a noticeable difference during long workdays.
In summary, after wearing the Carhartt Waterproof Workboot for two weeks, they offer solid electrical hazard safety, waterproofing, and comfort. However, the slight weight might not suit everyone. On the flip side, the hidden Goodyear Welt construction makes these boots a reliable choice for durability and longevity.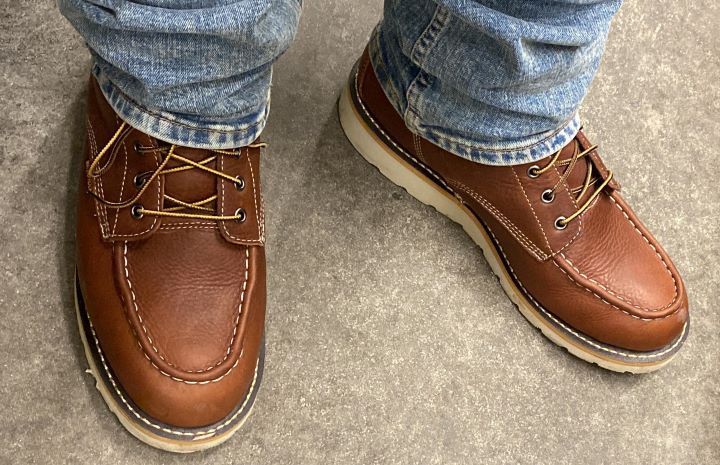 ---
7
This model from Carhartt is everything and more that you need in the perfect electrician's work boot.
The uppers are durable leather with a composite protective toe.
The entire boot has Rugged Flex technology that allows you to flex, bend, and move effortlessly.
The rubber sole is shock-absorbingng and oil, slip, and chemical resistant.
The leather uppers are constructed using Cement construction for strength.
You can also select from two available color options in the electrical hazard safe work boots.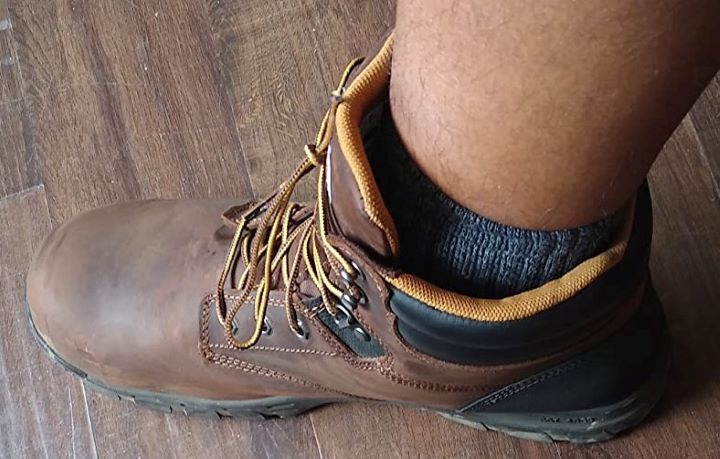 ---
8
The boots are available in two color options form, which you can select.
They have leather uppers with a breathable mesh lining and are waterproof.
The rubber outsole is oil and slip-resistant.
The boots are Electrical Hazard ASTM F2413-17 M I/75 C/75 EH rated and a rated Carbon toe.
Inside is a rebound foam technology insole for comfort and support.
---
9
The Irish Setter is a steel toe and electrical hazard safe work boot with many comfort features.
The Irish Setter Steel Toe Work Boot offers steel toe protection yet is still electrical Hazard safe.
The uppers are genuine leather, and there is a removable Polyurethane footbed for comfort,
The boots are Electrical Hazard safe and meet ASTM F2413-11, M/I/75/C/75 Safety Standards.
The King toe technology has a larger toe box with 44% more toe room than the standard Irish setter work boots.
---
10
The Caterpillar Navigator is a work boot that is electrical hazard safe and waterproof.
The Uppers are leather and have a waterproof membrane
Inside is a removable cushioned insole that cushions your feet for comfort.
The work boots are durable and have a soft toe design that is electrical hazard safe.
The rubber outsole is fully slip-resistant.
---
Index Table: Top Rated Electricians Work Boots
---
---