Construction sites are full of hazards that can cause serious injuries.
The best work boots for construction are one of your best defenses against many of these risks and hazards.
Construction work boots are tough, durable, and protect your feet against many elements.
Good construction work boots need durable waterproof and abrasion-resistant leather, with or without a safety toe; they need a slip-resistant rubber outsole and a comfortable cushioned insole.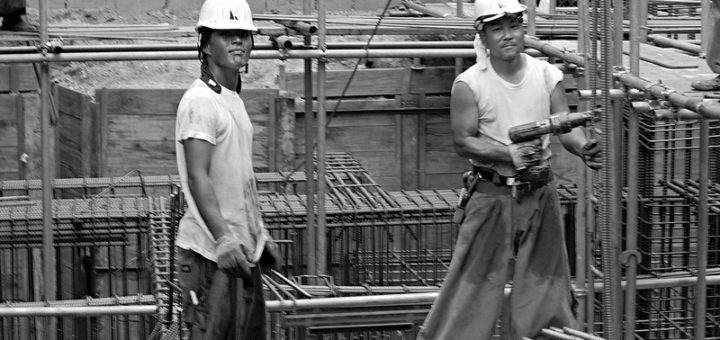 ---
---
Why You will Need Safety Construction Work Boots
A good pair of safety work boots are required on most construction sites to protect your feet and delicate bones in the metatarsal and toe areas within this hazardous work environment.
Because it is an outdoor work environment, you face environmental factors such as rain, cold or hot weather, slippery outdoor surfaces, and hard abrasive surfaces and areas.
There are heavy objects and a great risk of falling, so you will need a good protective toe, preferably a steel toe.
Durability is also a factor, and because you will be moving around quite a bit, you will need a comfortable and flexible work boot o to accommodate these activities.
---
Basics in Choosing Work Boots for Construction
So here are some of the basics to get you started on the best work boots for construction;
You will Need a Safety Toe – Look for a work boot with a proper safety toe. Steel is the best but also the heaviest. Composite and alloy toes also offer good protection.
Look for a Slip-Resistant Outsole – The work boot must have a durable rubber slip-resistant outsole. It does not need to be oil-resistant, although it is a bonus. The sole must have a lug pattern for slip resistance on outdoor surfaces.
They Must be Durable – Construction work and the environments are hazardous and harsh, so you need good quality and well-constructed work boots to last.
Try Waterproofing – Waterproofing is ideal but not required for construction work. It will help in wet weather, though. However, most work boots offer excellent water resistance, even though they are not fully waterproof.
Support and Flexibility is a Must – Look for a work boot that offers some support or cushioning as this is an occupation where you are often on your feet. Also, could you find something that is not hard and unyielding but gives a bit of flex for easy movement?
---
Features of a Good Work Boot for Construction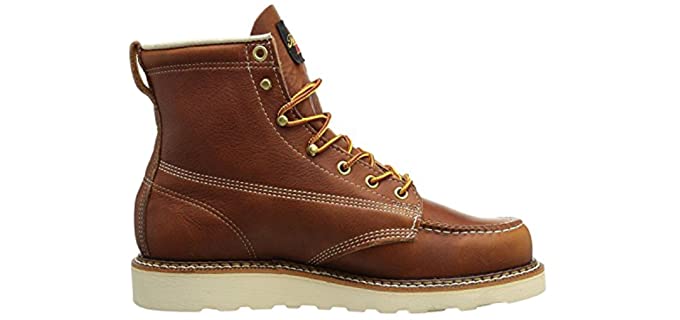 Materials – The best materials for construction work boots are genuine or durable synthetic leather. Rubber is ideal for a high-traction outsole.
Construction – Goodyear Welt and Cement construction methods are the most durable and reliable in most work boots.
Safety Features – Two necessary safety features for a construction work boot are protective toes and sometimes waterproofing or water resistance. Steel, composite, or alloy toe will protect falling options. Waterproofing, such as a Gore-Tex membrane, will keep your feet dry outside while remaining breathable.
Slip Resistance – A durable lug rubber outsole will offer good traction and grip on slippery floor surfaces.
---
Reviews: The Best Work Boots for Construction
These are some of our top favorite heavy-duty construction work boots;
We hope you love the products we recommend!
So that you know, We may collect a share of sales or other compensation from the links on this page.
---
1
The Timberland Pro Pitboss work boots are ideal for construction work.
They have a protective steel toe and a slip-resistant rubber sole, two of the most important features of a construction site.
The work boots have a comfort suspension technology cushioned footbed to fight foot fatigue.
There are also more colors from which you can choose.
---
2
The Thorogood Gen-Flex work boots are ideal for all types of construction work.
With the Goodyear storm welt construction and Composite safety toe, they are durable and safe.
They have an EVA cushioning system and flex soles for comfort.
The rubber outsole is slip-resistant and durable, ideal for slippery and uneven terrains in construction work environments. The rubber sole is also slipping-resistant on wet terrains.
---
3
For the Ladies, the Skechers for Work Workshire range is ideal for construction work.
This work boot features a relaxed fit design with a memory foam gel-infused footbed for comfort.
An oil and slip-resistant outsole and a steel protective toe cap for safety.
Three color options are available to get your favorite one or even two.
---
4
The Timberland Pro Direct Attach work boots are leather and have a lug rubber outsole.
IThen the sole is a comfortable cushioned insole, and they are insulated for warmth, which is especially ideal if you work in colder weather conditions where you need a bit of warmth from your shoes.
These boots are likewise fully waterproof and have a steel protective toe.
Furthermore, they are quite durable and tough, which is exactly what you want from your construction work boots, as the environment and tasks can be pretty hard in your shoes.
---
5
The Ariat Work Hog is a pull-on design industrial boot for construction work.
It is available in more colors and fashionable designs.
The Work Hog has leather uppers and a slip-resistant rubber outsole.
There is also a wide and soft toe for a less hazardous work environment.
They make the ideal on and off-site work boots because they are comfortable to wear and look good.
However, I would not recommend these work boots for working on dangerous sites with heavy falling objects or crushing risks, as they require a protective toe cap.
---
6
The Caterpillar Second Shift is the ideal construction boot covering all your needs.
The work boot is lightweight with an ASTM-rated steel toe for construction work.
The boot is waterproof and durable, making it ideal for general heavy-duty construction work.
A heel arch provides good arch support and a comfortable cushioned insole.
Because you are on your feet most of the time in construction work occupations, it is important to have work boots that provide comfort, good underfoot cushioning, and protective features.
---
Index Table: Top Rated Work Boots for Construction
---
---