Delivery Drivers are in and out of their vehicles, on their feet, and on many surfaces during their long workdays.
They also carry quite heavy packages at times which can be risky if dropped on their feet.
Firstly delivery drivers need work boots with a supportive footbed, good underfoot cushioning, and a shock-absorbing midsole. They need a more flexible sole work boot with a relaxed fit, in durable leather, that may be waterproof. A steel or composite toe is recommended, as well as a rubber, slip-resistant outsole.
So today, we want to help you as a delivery driver find the best work boots that will keep your feet safe and very comfortable throughout your entire workday.

---
---
Why Delivery Drivers Need Good Work Boots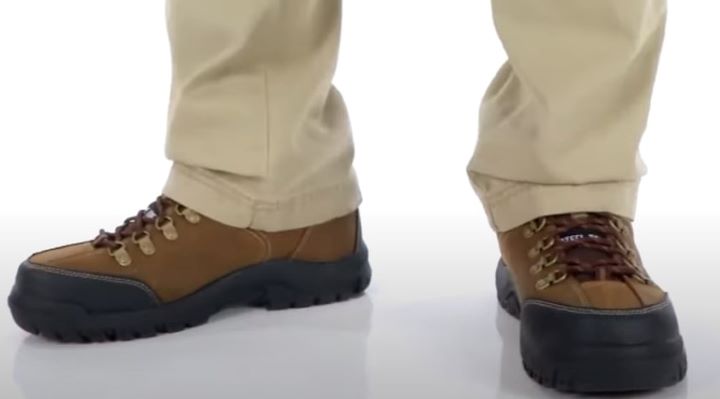 I want to give you a few crucial benefits for why you will need good work boots for delivery work.
Whether you are a UPS driver or truck driver, no matter by what means you do deliveries, you are on your feet quite a bit, so you will need something comfortable to prevent your feet from becoming tired and aching.
On the other hand, you may be on slippery surfaces that could cause a slip and fall, for which you need work boots that provide a better grip.
Then there are also the heavy packages that can fall on your toes and hurt them and wet weather conditions, all of which the features of a good work boot will help you.
I also have a few tips for you below to keep your feet comfortable with those long hours of deliveries;

Get The Right Socks – You need good socks beside the right work boots. Socks that cause no friction can lead to blisters, and socks that wick away moisture to prevent wetness and odors. Wool and cotton are your two best material options when looking for good socks to wear with your work boots.
Rotate Your Shoes – If you can afford two pairs of work boots or shoes, it would be ideal to rotate them a bit. Otherwise, always give your work boots some time to breathe at home and your feet some rest after work.
Properly Support Your Feet – If your work boots do not cushion and support your feet, invest in a good insole or orthotic support to support your arches and provide good underfoot cushioning.
---
What a Delivery Driver Shoe Should Offer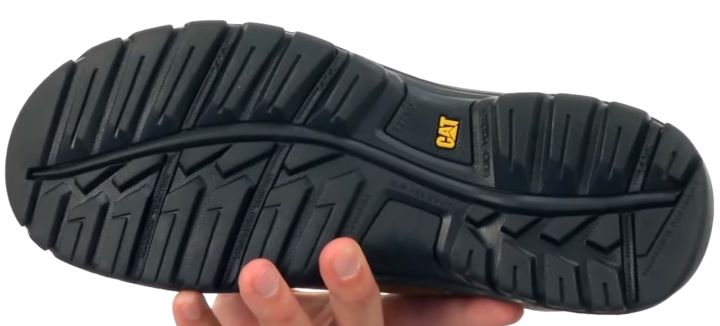 Here are a few benefits that most Delivery Driver shoes will offer you;
1. They will be breathable for hot weather to keep your feet well-ventilated and Dry.
2. They usually have a more flexible sole to allow easy movement.
3. They will be comfortable and fit well on your feet with good cushioning.
4. The Sole will provide traction and grip to prevent you from slipping on uneven terrains and wet surfaces.
5. You can get waterproof models and a protective safety toe if you need these features.
---
Features of a Good Work Boot for Delivery Drivers
Looking for the best features in good delivery work boots, you need protection, durability, and comfort as the main features. Here are some features to consider;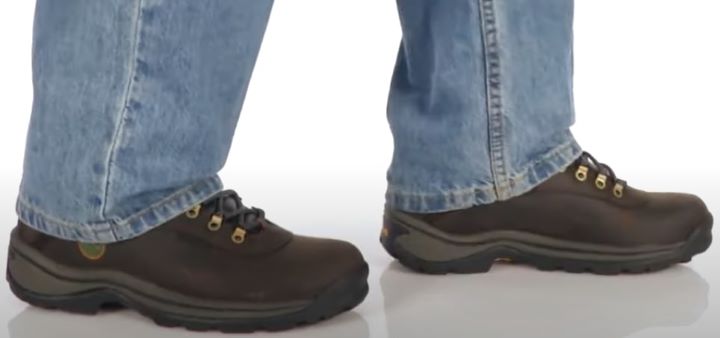 Fit – Make sure your work boots fit well. If they are too loose, they will chafe and cause improper walking mechanics. If they are too tight, they will cause bunions and other foot deformities. You can get a comfortable size with a roomy toe box and a snug fit.
Breathability – Breathability is needed, particularly if you work in hot environments and your feet tend to sweat. These features include perforations in the leather uppers, a mesh lining, or mesh insets.
Cushioning – Good underfoot cushioning, such as a padded or cushioned insole, provides a comfortable platform for your feet. Please be sure to look for an EVA or foam midsole that will also absorb shock.
Durability – Quality and durability go hand in hand; quality materials such as leather for the uppers and rubber for the soles are ideal. Welt and Cement stitching methods are among the best construction methods in work boots.
Support – A contoured or arch support footbed or design will help properly support your feet. Sometimes work boots have a nylon or steel shank for puncture protection, providing stability.
Traction – You will need good traction and grip on your work boots to face those slippery and uneven surfaces. Rubber with a lug pattern on the outsole's tread is ideal for achieving this.
---
Reviews: The Best Work Boots for Delivery Drivers
In the below list, we have some favorite work boots that are ideal for Delivery Work;
We hope you love the boots we recommend!
We may collect a share of sales or other compensation from the links on this page.
---
1
---
2
The Diagnostic from Caterpillar is fully waterproof and more comfortable for delivery drivers.
It is designed more for colder weather conditions and has 200 grams of Thinsulate insulation.
The work boot is leather with a slip-resistant rubber outsole.
There is an EVA foam cushioning insole that also has shock-absorbing gel.
---
3
The Timberland Pro Boondock is another full house safety work boot for delivery drivers.
It is leather with a TPU lug outsole for slip, oil, and abrasion resistance.
Inside is an anti-fatigue technology cushioning and support system.
The work boot has a composite safety toe that is more lightweight and waterproof.
---
4
---
5
The Skechers Afterburn Mid High Sneakers can be seen as a more comfortable and athletic style work boot for delivery.
This is a very comfortable and lightweight alternative for delivery work if you do not want a heavy work boot and do not need all the safety features.
The boot has leather and mesh uppers and a durable slip-resistant rubber outsole.
Inside is a plush and comfortable memory foam cushioned footbed.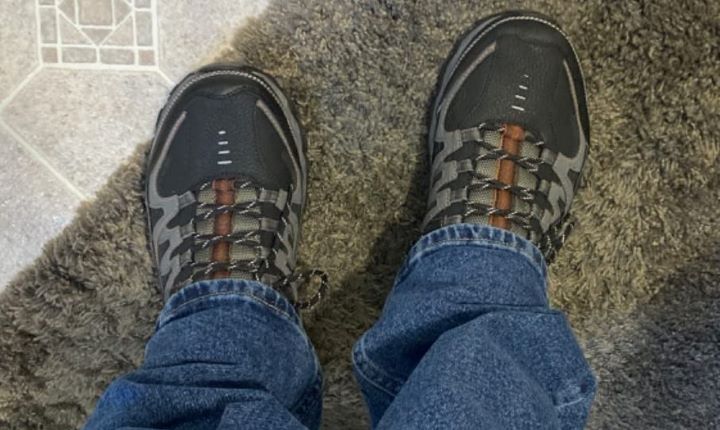 ---
6
Another great model from Skechers is their Workshire Workboot which I chose for lady delivery drivers.
The Worskhire is a full leather workboot with a slip-resistant rubber outsole that is quite durable.
It is electrical hazard safe, has a protective steel toe, and a roomy and comfortable fit.
It is cushioned for comfort with a removable gel cushioning insole.
---
7
The Carhart Traditional is so perfect for delivery drivers.
It has leather uppers and a steel toe.
There is a cushioned footbed and cushioned collar.
The fit is comfortable and ideal.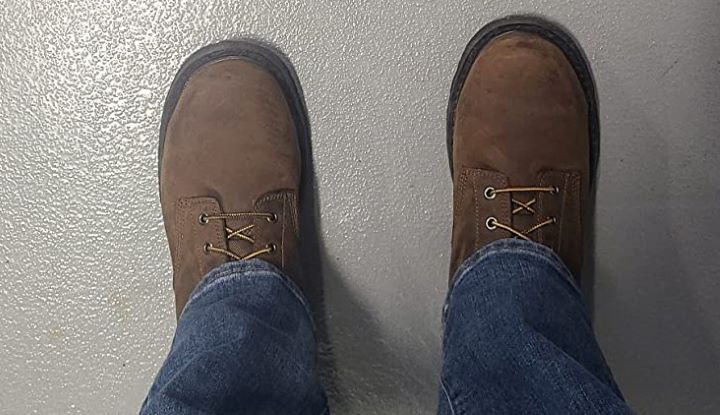 ---
8
The Keen Cincinnati offers super ankle support and comfort.
It is a soft textile and leather work boot with a wedge sole.
There is a durable and slip-resistant rubber outsole.
The work boots us waterproof with a composite toe.
---
9
---
10
The Ad tec is ideal for lady delivery drivers.
It is durable and very comfortable with a pillowy soft insole.
There is a protective steel toe and waterproof leather uppers.
The rubber outsole I slip-resistant and durable.
---
Index Table: Top Rated Work Boots for Delivery Drivers
---
---