Having wet work boots, whether sweaty or wet from working in a wet environment, is extremely uncomfortable and detrimental to your feet.
Wet work boots can form odors and become a breeding ground for foot fungus and bacterial infections.
When looking for the best boot dryer for work boots, you need to look at a boot dryer on which your boots will fit, with sturdy designs that will dry your boots efficiently without burning them.
The best boot dryers can help you to maintain your work boots in a dry state, as well as keep them fresh and keep them in better shape for longer

---
How Do Boot Dryers Work?
Boot dryers are devices that circulate warm air into your work boots without being so hot as to burn delicate materials.
You place your work boots on a boot dryer after wearing them or washing them and allow them to dry.
Boot dryers do not just dry your work boots. They also inhibit the growth of mold and mildew and fight odors to keep your feet fresh.
Most boots dryers use thermal convection, using air through the vents, warming the air, and passing it through your boots.
Boot dryer models can also be used to dry gloves and other garments.
---
Types of Boot Dryers
You get four different types of work boot dryers that work on the convection principle, as discussed;
Forced Air Boot Dryers – One of the fastest work boot dryers is the forced air work boot dryer, which will give good results. They have built-in fans that pass warm air into your boots and garments that need drying.
Convection Boot Dryers – The Convection work boot driver utilizes a heater that will gradually dry your work boots at room temperature. Convection dryers are very quiet, but they can take quite a while to dry your work boots.
PTC Boot Dryers – Positive Temperature Coefficient work dryers are small stone-like boot dryers with a self-limiting temperature feature. It is very efficient and fast in drying boots with an impressive heating mechanism.
UV dryers – UV boot dryers use Ultra Violet light to throw away microorganisms in your wet work boots and help keep your boots odor-free and fresh.
---
Features of a Good Boot Dryer for Work Boots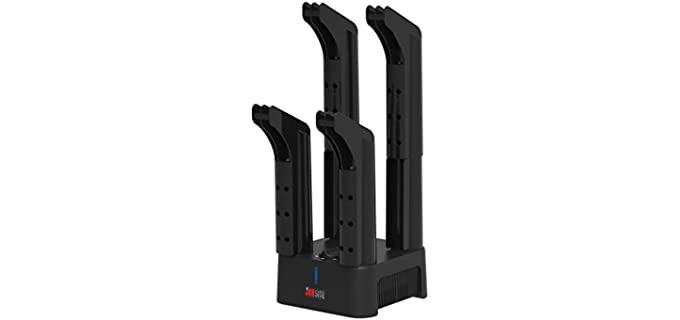 Base – Make sure the boot dryer has a sturdy base to hold your boots in place for drying.
Heating – Most work boot dryers have all-around 360 heat capabilities and forced air to dry your boots quickly and easily.
Deodorizing – Some boot dryers will also help to reduce odors in your work boots and refresh them.
Portability – You get smaller design boot dryers that dry a single boot simultaneously, which are portable for travel.
---
Reviews: The Best Boot Dryers for Work Boots
In our list, we have some of the best available boot dryers for your work boots;
We hope you love the products we recommend!
So that you know, We may collect a share of sales or other compensation from the links on this page.
---
1
---
2
From DryGuy, we have the Dx Forced Air Boot and Garment dryer.
The versatile design can be used to dry your work boots as well as some garments.
It uses forced warm air and can work simultaneously with various bots and garments.
The work boot dryer is whisper-quiet with a three-hour timer and heats up to 105°F/40.5°C, which will not harm liners and garments.
It keeps your shoes fresh and odor-free by keeping them dry,
You get two removable extension tunes that you can use for boots up to 16 inches tall.
---
3
The Kooder boot and foot dryer help sanitize your shoes and feet.
The Boot dryer comes with a high-quality cable with a 20 kg stretch in pulling to prevent disconnection during use.
It has a heat-resistant tough surface with a smooth finish that is resistant to high temperatures.
The boot dryer offers 360 degrees of heat with vertical and horizontal air holes in the cabinet for even heat distribution.
The PTC Heat generator is durable and long-lasting.
---
4
The DryGuy Travel, Dr. DX boot dryer, works well on shoes and works boots.
The work boot dryer is portable, using traditional convection drying and forced air for drying your work boots,
The Hybrid forced air and convection system can heat to 99 degrees to dry your boots and shoes in less time than most other work boot dryers.
The AC/DC power adaptor allows you to use the boot dryer at home or in your car, with a compact design for easy fitting your luggage for travel.
The bot dryer will fit most footwear and boots and will not damage delicate materials.
---
5
The DryGuy Force Dry boot dry works quickly and efficiently.
It is a versatile boot, shoe, and glove dryer with rotating and articulating drying ports.
You can lay the boot dryer down for drying longer and heavier boats such as ski boots.
It uses forced air that heats to 105 degrees (40.5-Degrees C) and dries most boots and shoes within 1 to 2 hours.
There is also a three-house auto shut-off timer for safety.
The Forced air heats shoes very quickly and will not shrink, warp or damage more delicate garments and work boots.
---
6
The Jobsite Mighty Dry Boot dryer comes with a timer and fan for fast drying to refresh your boots and shoes.
The work boot dryer has fan power and warm air that dues wet boots, shoes, gloves, and other garments fast and easily.
To heat up to 98-110 F temperatures, the Heater is 200 watts.
The Boot dryer will keep your boots and shoes dry to reduce odors and refresh them.
It has an on-and-off timer that will run up to three hours and then shut off automatically.
The sturdy heavy-duty base can hold all types of heavy winter and work boots,
It is a trusted brand that comes with a two-year warranty.
---
7
The Lavieair Boot and shoe dryer can also dry your gloves.
It is a fast-drying 250-watt boot-drying heater with a coil and a motor inside.
The heavy-duty boot and shoe dryer can dry even the heaviest boots in two hours or less.
The work boot dryer helps to neutralize odors and refreshes your boots by eliminating all dampness.
The boots dryer can also simultaneously dry two pairs of boots or shoes.
It has warm air that will not damage delicate boots, shoes, or gloves, rather than hot air.
---
8
The MaxxDry heavy Duty boot, shoe, and glove dryer is a single-pair design for when you are limited on space.
It is a heavy-duty design that will extend the life of your footwear by safely eliminating unwanted moisture in boots, shoes, and gloves in around an hour or so.
The 240-watt dryer uses gently heated airflow to reduce odors and refresh your boots.
It uses 120V AC Household outlets that heat up to 105 degrees Fahrenheit (40.5 degrees Celsius, which will not damage delicate gloves, shoes, or work boots.
---
Index Table: Top Rated Boot Dryers for Work Boots
---
---